Verizon HTC One max to have max pricing at $299
13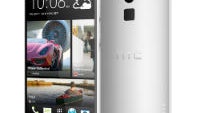 One of the more annoying trends in the mobile market these days is that phablets are getting higher price tags, apparently on nothing more than the size of the display. We've seen it with most phablets like the Samsung Galaxy Note 3, although the Nokia Lumia 1520 is
breaking that trend
. Now, it looks like the same is happening with the Verizon HTC One max.
Last week, we saw Best Buy and Sprint put up
pre-orders
for the HTC One max a couple days before it was released with a price tag of $249, which is a bit lower than the standard $299 that is seen on phablets. But, a new leak is putting the Verizon HTC One max pricing at the usual $299. The leak comes from a Verizon concept store opening at the Mall of America in Minnesota, where it seems the pricing was posted accidentally.
The leak shows the HTC One max with Verizon branding right on the front, the $299 pricing with a two-year agreement, and the Verizon EDGE pricing of $24.99 per month. We still don't know when Verizon is going to release the device, but it will likely be soon, because no doubt HTC and Verizon want the newest devices on the shelves in time for the holiday shopping rush.