Verizon Galaxy Nexus unboxing and hands-on
38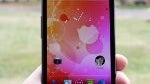 Alas, the time is finally here, after much wait and antagonizinganticipation! At long last, the Samsung Galaxy Nexus for Verizon, 4G LTEequipped and all, is available starting today for the devilishly hard workingon-contract price of $299.99 – so yeah, you know that you'll need to work yourbehind off to earn this one. In any event, we've got it in our hands and eagerlywaiting to check out how Big Red's version stacks up against the horde ofcompetition. With that, let's get right into the fun!
Taking into consideration the pure Google experience we'renaturally inclined to see with the handset, its packaging is rather fittingwith its all-white appearance. Actually, there isn't a single image of thehandset in question anywhere around the box, rather, our attention is placed onsome of the subtle brandings littered throughout – like the Verizon, 4G LTE,Samsung, and Galaxy Nexus logos etched on. In the rear, we're given a sneakpeek into what the package contains, and rightfully so, it's the normal thingswe tend to find. Specifically, this flagship device is packing along the usualset of documentation, microSIM card, microUSB cable, wall charger, a pair ofwired headphones. For something so costly, one would imagine getting treated tomore, but alas, it's what is expected nowadays.
Right off the bat, the design of the Verizon Galaxy Nexusembodies all of the characteristics akin to any Samsung device we've checkedout already – like its all-plastic construction. Although it doesn't quite comeoff as being the most solidly built thing, it's reasonable enough to accept,plus, the textured back cover gives of a subtle rubbery feel. For a device that'scompletely constructed out of plastic, we notice some weight behind it all,which isn't all that bad to tell you the truth, but noticeable enough over thefeatherweight feel of Samsung Galaxy S II line. Additionally, for a devicepacking a larger than normal display, we're glad to see it retaining a tightbody that doesn't feel as wide as some other handsets. Clearly, its design ishardly drool worthy when you compare it to something like a Motorola DROIDRAZR, but hey, it's decent enough for most people to accept.
After looking over its looks, our eyes are instantly fallupon on its lovely looking 4.65" HD 720p (720 x 1280) Super AMOLED display.Honestly, even though it utilizes the RGBG PenTile matrix for pixel arrangement,it's detailed enough that one would hardly notice it when looking at the devicefrom a good distance away. Even more, with things like fine text within the webbrowser, it's sharp enough to discern tiny text at a zoomed out view. Beyond that,our eyes simply melt over the gorgeous and punchy looking colors that AMOLEDdisplays in general are known to exhibit. From a side profile view, there's aslight contour to the display that yet again follows in the same path as theGoogle Nexus S from last year, but it doesn't particularly add anythingbeneficial.
So we know what else is coming along with the Samsung GalaxyNexus, but as a refresher, it features a 1.2GHz dual-core TI OMAP 4460processor, 1GB of RAM, 32GB of internal storage, 5-megapixel rear camera, 1080pvideo capture, 1.3-megapixel front-facing camera, aGPS, Bluetooth 3.0, 802.11b/g/n/a Wi-Fi, and that oh so wonderful 4G LTE connectivity. With the latter,it's actually what makes this guy so special compared to the GSM version thatwe reviewed, which is also the cause for its slightly larger size as well.Nonetheless, we're curious to see how battery life manages in the end with itshefty 1,850 mAh battery. Ultimately, that leaves us with Android 4.0 IceCream Sandwich – the one platform that's meant to combine Google's smartphoneand tablet operating systems together. We've gone over it extensively already,but as always, we're giddy to checking it out again. In the meantime, we'll beputting Verizon's latest wonder through its paces to see how it stacks up. Soexpect our in-depth review soon!