VZW announces LG Dare, Decoy and Chocolate 3!
50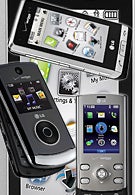 Finally, months after the first information leaked, Verizon Wireless officially announced the three new LG phones it will carry: Dare, Decoy and Chocolate 3.
LG Dare
is a slim candybar with a large touchscreen on the front and only three keys, reminding of the PRADA and the Vu (AT&T). It will be positioned as multimedia-friendly touch phone with 3.2-megapixel camera and image-editing software
.


LG Decoy
is a slider and the world's first handset with an integrated Bluetooth headset. It slips into the back for charging its battery and transporting both devices together.
LG Chocolate 3
is … a clamshell! Although it has the same model name, it is not slider as the first two generations (VX8500 and 8550). It is still a music-centric device with large control wheel on the front, when closed. It has 1GB of memory and microSD slot for expanding it, stereo speakers and support for Stereo Bluetooth. It also features FM transmitter for transferring the music to nearby radio and a 2-megapixel camera.
At the moment, the details are scarce but Verizon said it will provide more in the upcoming weeks. LG Decoy will launch first, on 16th this month (as expected) and the other two will be available for purchase next month.
source: Verizon