Users still may not understand the risks of using an iPhone on T-Mobile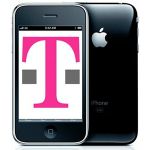 A leaked internal document from T-Mobile seems to show that users still don't understand 3G bands in the United States and the compromises that one has to make in order to use an iPhone on T-Mobile. This is certainly one of the strangest leaks we've seen, especially after Apple announced its
absolutely ridiculous quarterly earnings and iPhone sales
earlier today.
The leaked document looks like a training sheet for T-Mobile reps in order to make sure that anyone attempting to use the iPhone on the network understood that the iPhone is not compatible with T-Mobile's 3G bands. And, of course, T-Mobile is obligated by being a business to spin that as the iPhone offering a "poor" customer experience on the carrier, and using it to push customers towards Android phones which will offer far better speeds.
Calling the user experience "poor" on the iPhone, even with slower
EDGE
speeds, seems like a stretch, but then again T-Mobile has no reason to be fair, it's just trying to sell its own phones and the iPhone isn't one of them.
source:
TMoNews
via
BGR