Users crave the new iPhone 4S, break contracts and pay ETFs to get one
57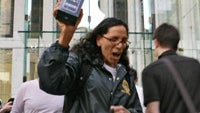 Many users are craving the new
iPhone 4S
and have terminated their contracts before they end
often paying more than a $100 in early termination fees
, only to get the latest from Apple, a survey by newly-founded Consumer Intelligence Research Partners (CIRP) reveals.
CIRP surveyed iPhone buyers in the period from October 31st to November 10th, and found that nearly a half, or 45% of all buyers, had to
terminate their contracts early
to get the new iPhone. Among those, the overwhelming majority, or 70% of them, had to pay over $100. Needless to say, this confirms that the new iPhone 4S is selling very well with persisting demand. What it actually reveals, though, is that those consumers buying the iPhone are determined that it's the right choice and don't care to even pay a hefty ETF. We doubt that anyone liked giving an additiona $100 or so to make a purchase.
The survey also found out that 90% of the buyers chose the iPhone 4S and that
37% of the respondents switched carriers to get the handset
. While it shouldn't be indicative of carrier's sales figures, the majority or 49% of the surveyed picked an AT&T-branded iPhone. Verizon iPhone buyers accounted for 34% while only 17% got the Sprint model.
Additionally, the report mentions that online purchases have an increased importance recently. Here are some other interesting findings from the report:
- women tend to pick the white iPhone more often,
- 64GB iPhone 4S models account for 23% of all iPhone 4S sales,
- 30% of the surveyed upgraded from the year-old iPhone 4,
- only 25% of sales were carried on through Apple retail channel.