Use your smartphone to give your pet treats with Petzi
4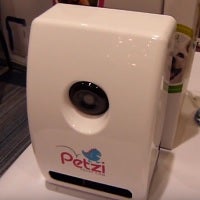 Dogs and cats play a special role in our lives. If you wish you could duck out of work several times a day to reconnect with your furry companion, you are certainly not the only one.
While some might say such angst is enough to build a case to allow bringing pets to work every day, that is not truly a realistic expectation. So, how might one connect, check in, and toss Fido or Fifi some treats during the day while we're away?
Petzi is a connected device that lets you look in on your pet, talk to him or her, and toss out some tasty treats. The companion app for iOS or Android controls the show, and also lets you take candid pictures while you are away and share them across social media. The Petzi app also connects to a pet-dedicated social "petwork" where you can show off and share your furry family member with others.
The Petzi is available on Amazon.com for $169.99.