Update to Snapchat created ruckus in Kansas school
14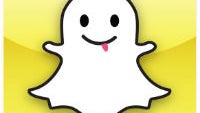 Last week, Snapchat was updated to include text messaging and video chats. To access the new features, you simply swipe right from your friend's name in your Snapchat inbox. If both you and your friend are using Snapchat at the same time, a button becomes animated to alert you. You can then start a video chat by pressing and holding the screen. Switch which camera you have in use, by moving the video preview window from the top of the screen to the bottom. That changes the camera in use from the rear-facing, to front-facing one.

The Snapchat update on Thursday unnerved at least one teacher
Instead of just sending messages to each other that disappear in 10 seconds, Snapchat also has added another text service. Again, scrolling right from the name of a friend will allow you to have a real-time text message conversation with them. Unlike the original messaging feature on the app, the new texting capability is made for those who need to chat to each other in real time. Once you leave the chat screen, the conversation disappears, although it can be kept by taking a screenshot of the screen.
Meanwhile, the update seemed to rattle a 16-year veteran of the chalkboard. At Council Grove High School in Kansas, science teacher Tracie Schroeder called it the most disruptive day she has ever had as a teacher. Snapchat's demographic target are the pre-teens and teens, who are sending personal information to their friends that they don't want Moms and Pops to read. So when the Snapchat update came out in the middle of a school day, the students all raced to update the app. Schroeder even compared Snapchat to crack, noting that one girl hid under the table to update her phone. She did end up confiscating all of the handsets from students in her class, and gave them a talk about the appropriate time and place when they should be used.
source:
BusinessInsider