Update to Motorola Moto 360 greatly improves the battery life of the smartwatch
26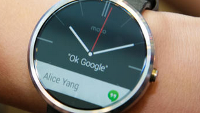 According to owners of the Android Wear powered Motorola Moto 360, the timepiece has recently received an update that puts a charge into the battery life of the watch. One Moto 360 user wrote on Reddit that his Moto 360 has been off the charger for 30 hours, and he still has 53% battery life remaining.
To be sure, Ambient Mode must be disabled to achieve this type of battery life. This is the mode that when enabled, keeps the watch face lit up, albeit with dim lighting. Using the Ambient Mode makes the Moto 360 more akin to a regular watch by having the face always available to view. The cost for this is shorter battery life, since the screen is always on. Still, the update also improves the battery life for the Ambient Mode.
The Moto 360 is
equipped with a 300mAh battery
.
Our review
showed that with the Ambient Mode off, the watch could last a day without needing to be recharged. With the Ambient Mode on, the battery lasted for about half a day. But with Build# KGW42R and Android Wear softwear version 1.0.1.1448224 on the timepiece, you should be experiencing much longer battery life for your watch.
source:
Reddit
via
AndroidAuthority