Motorola explains the discrepancy with the Moto 360 battery
14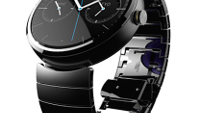 Earlier this morning, we told you about
the controversy surrounding the battery employed in the Motorola Moto 360 smartwatch
. A teardown of the timepiece conducted by iFixit, revealed a 300mAh battery inside. Motorola has been promoting the wearable as containing a 320mAh battery. Obviously, there have been a number of Moto 360 buyers upset about not getting the exact battery capacity that they were told they paid for.
Motorola responded by saying that the range of the capacity on the Moto 360 battery is 300mAh to 320mAh. On the batteries for its handsets like the
Motorola Moto E
,
Motorola Moto G
and the
Motorola Moto X
, the entire capacity range of each cell is printed on the body of the battery. But for a smaller device like the Moto 360, Motorola had limited space and decided to print the minimum capacity figure. Motorola says that it is exploring ways to print the entire range on its watch batteries in the future.
"The typical battery capacity for Moto 360 is 320mAh and the minimum is 300mAh. In the mobile industry, sometimes both the minimum and typical capacity is listed on the battery, with the typical capacity quoted as the official battery size. Both figures are included on the batteries of our Moto X, Moto E and Moto G devices. In the case of smaller devices, we aren't always able to list both figures. For Moto 360, we only had room for one figure and choose to list the minimal capacity of the battery. We see how this can be confusing and we will look into ways to add the typical capacity as well in the future."-Motorola
Moto 360 owners, is this explanation enough to allow you to move on with your life, or do you still feel uneasy about the discrepancy?
source:
AndroidAuthority