Update being sent to Samsung Galaxy Note 3 to fix a problem with third party "S-View" cases
13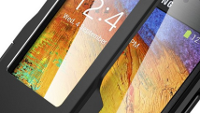 Ever since the
Samsung Galaxy Note 3
received the Android 4.4 update, the phablet has stopped supporting third party S-View cases. These are the cases that have a cut-out opening for the screen, and when the case is closed, it sets off a special screen mode. Originally, the Korean based manufacturer claimed that this problem did not exist, and suggested that owners of the device stick to Samsung branded accessories.
However, after further review, Samsung's original call was overturned (see what we did there?) and the company announced that it will send out an OTA update that will fix the problem. In a statement, Samsung made sure to note that it will continue to offer "
support and solutions
" to all Samsung branded, and non-Samsung branded accessories that have an issue.
No precise date was announced for the update, although Sammy did say it would push it out "shortly".
"We have currently identified a software compatibility issue with the Galaxy Note 3 update to Android 4.4 (KitKat) and select 3rd party accessories. A software update will be available shortly. We are committed to offering a diverse and reliable mobile experience for all customers, providing continued support and solutions for any issues that arise with product updates for both Samsung manufactured and third-party accessories."
-Samsung
source:
ArsTechnica
via
AndroidCentral