*Update* Samsung L870 is Symbian S60 slider with Safari browser, NOT!
16

Update:
Phone Arena broke the story yesterday about the "Safari" browser being used in the new L870. Even though now it's clear that it was a Samsung mistake or just PR gimmick, we feel the need to apologize for the misleading information.
Obviously, someone at Samsung is not clear that "Safari" is a trademarked by Apple (application date January 7th, 2003 with registration number 3414499) and Samsung cannot call the regular Nokia S60 OSS or Mini Map browser "Safari". We felt that being #2 manufacturer in the World, every press release is carefully inspected by the PR and legal departments, so such "errors" are not pushed to the press. Obviously, we were mistaken and we have to take all the information that comes from Samsung with a grain of salt.
After we carefully explained to Samsung why they cannot call the Nokia Mini Map Browser "Safari browser", Samsung PR still kind of insisted that (quote from Samsung email to us) "As you indicated, L870 is equipped with S60 OSS browser, also known as S60 safari browser".
1. In their press release, Samsung did not call the browser S60 OSS Safari which is still incorrect, but just "safari browser"
2. Some on the Net calling the "S60 Safari browser" does not mean that Samsung can do it in an official press release. They continue to use the name S60 Safari browser in their specs sheets as well.
3. It is correct that Nokia Mini Map is built upon S60WebKit, a port of the open source WebKit project, which contains WebCore and JavaScriptCore components that Apple uses in its Safari browser, but this does not give Samsung the right to call the Nokia Mini Map "safari".
On top of this, the press release and official specifications we got show different number of screen colors (256k and 16m) and even different dimension. We all hope that Samsung will put their affairs in order …


Samsung just announced the SGH-L870, which
was first noticed i
n Holland, in mid April. Now official, the L870 reveals its pretty look and features. As expected, it is a S60 smartphone, but we are happy to see it runs on the latest Symbian 9.3 and 3rd Edition of the S60 interface with Feature Pack 2, just as the newest Nokia smartphones. It definitely looks better than on the spy photos, with stainless steel body and brushed pattern.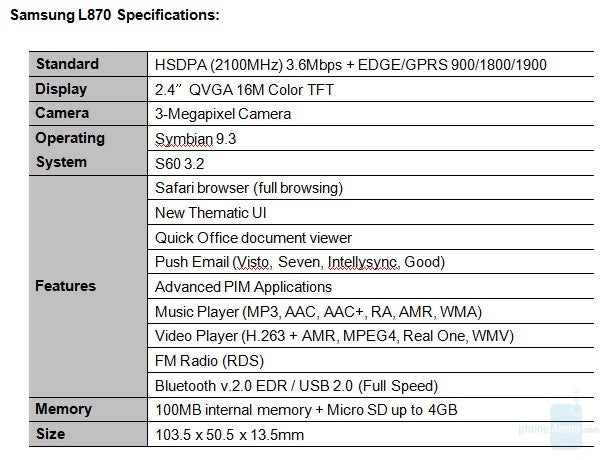 Samsung's specs mentioning Safari
Samsung will load it with a few applications straight out of the box (including task manager, PIM homescreen plug-in, and business card recognition function), but for us, the most interesting feature, which will be available in the L870, is the
Safari
Internet browser. This is a big surprise, since until now, it was present only in the iPhone, but apparently, Samsung has collaborated with Apple to use it in its phones (not yet announced). Although the S60 default browser (which by the way is very good) is based on the same WebKit open source engine as the Safari, we guess the latter will surpass it in every aspect.
The Samsung SGH-L870 is a half-inch (13.5mm) thick slider, with a 3-megapixel camera, a 2.4" QVGA display, including 100MB of memory plus microSD slot, FM radio and Stereo Bluetooth. It is tri-band GSM with single band UMTS/HSDPA 3.6Mbps support, targeted for the European market where, it will launch around August.
source: Samsung