Upcoming Galaxy Note 10.1 (2015) tablet leaks on a Samsung website
25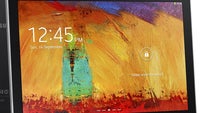 A new, yet-unannounced 10.1" Samsung Note tablet has popped up on the company's website, mentioned in services and app descriptions there. Last year, Samsung introduced a 10-inch
Galaxy Note
with Super Clear LCD tech, and the respectable 2560 x 1600 pixels of resolution, carrying the venerable S Pen stylus, letting you doodle or handwrite on the generous screen real estate. It was introduced in October, and, despite the high-res panel, carries a somewhat aged Snapdragon 800 chipset, so Samsung might have decided that it's time for update.
The upcoming Galaxy Note 10.1 (2015) appears in descriptions of Samsung's WatchON , Galaxy 11 Shooting Shooter and Galaxy 11 Cannon Shooter pages, as you can see above, mentioned for support alongside last year's
Galaxy Note 10.1 (2014)
edition. Since it would be a crying shame for the new tablet to ship with anything less than
Android 5.0 Lollipop
, we might have to wait out at least the next month to see it being announced, as that's when Google is releasing the source code.
If Samsung decides to keep the trend of equipping its latest tablets with high-res AMOLED displays, we can reasonably expect the Super Clear LCD of last year's 10-inch Note to be upgraded to a Super AMOLED panel. If it is as color-accurate as on the
Tab S 8.4
, we wouldn't balk against that change, too. The Note 10.1 (2015) could also sport at least a Snapdragon 805 chipset, making it screeching fast, but let's wait and see what other rumors trickle down the pipeline about the eventual next 10-inch Note edition.