Upcoming Apple Watch software update rumored to bring a new "Find my Watch" feature
9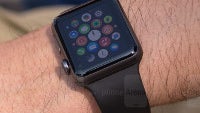 According to insider sources quoted by 9to5Mac, Apple is getting ready to launch a major software update for the Apple Watch. The upcoming update is said to enhance the connectivity and security capabilities of the Apple Watch, two key aspects of any mobile product.
According to this fresh rumor, the upcoming Apple Watch update will bring a "Find my Watch" feature, one that's said to be highly similar to the "Find my iPhone" feature that Apple has previously integrated in its smartphone line-up. This should give Apple Watch owners the ability to track, lock, and remotely wipe the device.
Sources also suggest that Apple will include a functionality that will ping the connected iPhone if the system detects that the Apple Watch gets out of range. The
lack of security features
has drawn a lot of criticism from the online community, but it looks like Apple will soon address the issue.
The upcoming Apple Watch software update is also said to allow developers to create third party "Complications", which are elements that can be overlaid on top of watch faces. Unfortunately, it looks like support for third-party watch faces are not something that Apple is working on at the moment.
Looking into the future, Apple is rumored to expand on the health and fitness capabilities of the Apple Watch platform. Blood pressure monitoring and sleep tracking are both said to make their way to the platform over the next few years.
It remains to be seen how many of these new features will be made available for current-generation Apple Watch models, as some of these additions might require new hardware such as new sensors.
With Apple's WWDC right around the corner on June 8, chances are that it won't be long before we hear more about the Apple Watch software update from the manufacturer itself.