Up-close video of Facebook Home in action
27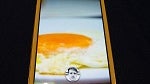 The Facebook event went off without any adverse issues. Mark Zuckerberg and the gang pulled off a great presentation of how Facebook Home works, and how it operates.
The integration of Facebook Home does have some deeper system integration built into it on the HTC First, that primarily affects how notifications are presented on the home page of Cover Feed from some of the stock Android or native third-party applications.
For this video, we got to get an up close run through of how Facebook Home will work. In this case, we see it in action on a
Samsung Galaxy S III
, and frankly the performance is impressive. Not such a difficult task given the hardware the S III has, but still for such an immersive application, Facebook Home works very well, we noticed no stutter in performance at all.
The presentation was not about Facebook dominance so much as making the hardware more people centric versus being app centric. The fluid performance makes it easy to get in and out of. Facebook Home relies heavily on gestures, but the gestures are not difficult at all and are nearly immediately intuitive.
Check out the video and share your thoughts. Is Facebook Home going to be something you want to check out.