Up-close and sweaty with the Under Armour HealthBox by HTC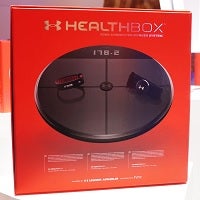 It's all about the health. If that idea has not permeated your thoughts since wearables started making their push into the mobile space, then at least now you know.
There are many potential benefits to using these accessories. It is not just about how far you run or walk, but they can help identify problems in sleep patterns or general levels of activity. For developed markets, and the United States in particular, these are things we need to know since increasing percentages of the population are overweight.
HTC and Under Armour announced their partnership to develop connected fitness hardware last year, and this year at CES, they debuted a complete kit of fitness hardware. It is called the HealthBox. In the box is a new activity tracker wristband, called the UA Band. There is a new connected heartrate monitor chest strap, called UA Heart Rate. UA Scale is connected so it will send your weight to the companion UA Record app for iOS and Android.
The UA Band, Scale, and Heart Rate are the fruits of the partnership with HTC. The designs are modern, though the lack of waterproofing for the UA Band might be a turn off for some. However, it will withstand sweat from a workout. The UA Scale is the "new" entrant into the connected fitness scene. Not only does it measure weight, but it will also calculate body fat percentage, and then incorporate that information in the UA Record app (discreetly as seen in one of the videos below).
HealthBox will retail for $400, will be available January 22nd, and is available to pre-order now on either Under Armour's or HTC's websites. If you want, you can get the individual components from HealthBox separately. The UA Band will sell for $180, as will the UA Scale. UA Heart Rate will retail for $80.
Under Armour HealthBox and new connected gear