Unlocked Samsung Galaxy Nexus in silver or white for $460, today only
2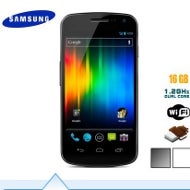 As far as smartphone deals go, this one is pretty sweet. Daily Steals has the first Android ice Cream Sandwich phone, the
Samsung Galaxy Nexu
s, for $459.99 without any contract shackles.
The phone is the GSM version, with 16GB of internal memory, and comes unlocked, so you can just pop in a SIM card and go.
Shipping and handling is five bucks extra, but the cheapest Amazon has a new Galaxy Nexus for is $519, so it's still worth it, if you plan on grabbing the Android ICS poster child phone.
Thanks, Cody!