University of Southern Miss plans to offer 1,000 Galaxy Tab 10.1 units to students
10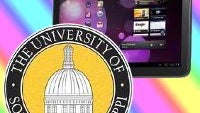 There's no arguing that students require certain tools to aid them in their quest to finish college, but seeing that tablets are becoming more prolific in the academic environment, it's not uncommon to find schools handing them out like candy to certain students.
Well, if you happen to be a student participating in the Honors College pilot program over at the
University of Southern Mississippi
, then you might be one of the lucky ones to snag a
Samsung Galaxy Tab 10.1
. Specifically, the school purchased
1,000
Samsung Galaxy Tab 10.1 units in the hopes of enhancing access the education of its students.
Naturally, there are plenty of case uses for the tablet, but they're going to be preloaded with
Blackboard Mobile
, which intricately incorporates academic aspects to the tablet – like giving students and professors access to e-textbooks, grades, schedules, emergency notifications, and much more.
Indeed, the pilot program is aiming to revolutionize the total college experience, but as we all know, some might find the tablet as the perfect companion for killing some time.
source: Samsung