Unbreakable LiquidMetal rumors return for the iPhone 5S and next iPad
25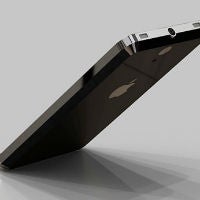 If you've followed the Apple rumor mill even peripherally, there are a few rumors that are persistent. We've been hearing for the past two iPhone cycles that there would be NFC in an iPhone. Before Apple added LTE, that rumor held for a couple cycles as well. The rumors of Apple using an unbreakable LiquidMetal casing began with the iPhone 5, but it looks like it may be real for the 5S and the next-gen iPad.
The rumor started with the iPhone 5, but never had much traction, because the
technology couldn't really provide
anything more than smaller components made of LiquidMetal. This time around, things are looking different. It started with a patent filing that was approved yesterday for "
bulk amorphous alloy sheet forming processes
". In plain English, it is a process which would allow the manufacture of sheets of metallic glass of variable thickness between 0.1mm and 25mm and in widths of up to three meters, which could be used in "any electronic device known the art".
The patent was granted to Crucible Intellectual Property, which is a shell company formed with the licensing deal between Apple and LiquidMetal Technology. The Boy Genius himself is predicting separately (he never mentions the patent filing in his prediction) that the iPhone 5S will use LiquidMetal, because back in May he handled the SIM card tray of an iPhone 5S, and claims it felt like LiquidMetal.
Of course, the technology to be able to make LiquidMetal components has existed for years, going back to the original Vertu devices in 2004.
The question is whether the patent filing shows that the technology has evolved enough to build entire iPhone and iPad cases out of the material
. Clearly, the patent shows that Apple and LiquidMetal Technology have a manufacturing method in theory, but unfortunately, patents don't always go beyond the theoretical and into a real world building scenario.
Given that the iPhone 5S is planned to launch in September, it is likely that Apple has already begun the mass production of the devices, since we are in the 2-3 month window before launch when manufacturing would ramp up. But, it is still unclear if this new production method was ready soon enough to scale for the demands of millions of iOS devices that would be hitting the market just a few months from now. It certainly doesn't help the rumor (or BGR's prediction) that
aluminum cases were leaked
straight from the Foxconn line earlier.
We can certainly believe that some internal components of the next-gen iOS devices will be made with LiquidMetal, because even a small piece will be enough to allow Apple's marketing machine to run with the claims. But, we haven't seen anything yet that would support the idea that the entire casing for the next iPhone or iPad will be made of the material.