Apple to spend several years, half a billion dollars to help Liquidmetal technology mature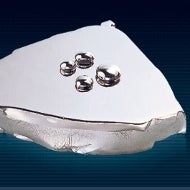 Based on leaked parts and recent rumors, it now appears unlikely that we will be seeing a Liquidmetal backplate used on the new iPhone later this year. And it also turns out that this isn't surprising, as a recent interview with Atakan Peker makes clear. Who is Dr. Peker you ask? One of the inventors of Liquidmetal, which for those of you wondering is a new class of metallic alloys that can be poured into a mold (i.e. they can make lots of sweet shapes) and are very resilient.
So why aren't we going to see Liquidmetal in the iPhone this year? In short, the technology simply isn't ready yet.
Peker explained that "This is a technology that has yet to be matured and perfected both in manufacturing process and application development. I should note that this is a completely new and different metal technology. Therefore, there is no suitable manufacturing infrastructure yet to take full advantage of this alloy technology."
Peker also indicated that Apple would be investing large amounts of time and money into maturing the manufacturing process.
He estimates that Apple will likely spend $300 million to $500 million and three to five years before they could use it as the casing for a future iPhone or a MacBook.
FEATURED VIDEO
In the short term Dr. Peker expects to see the technology used in smaller-scale parts, like improved hinges. As the manufacturing process develops to the point where wide-scale producing of cases is possible, Peker believes Apple will save the material for some sort of break-through product that will redefine a product category.
So alas, there will be
no Liquidmetal backplate on the iPhone 5
. Wait around a few years though, and possibly we'll see it in the
iPhone 8
. Since Apple has an exclusive license to use Liquidmetal, one thing you can be sure of is it will be a hard technology to match once they do put it into a product. Money may not be able to buy happiness, but it can certainly buy you exclusivity!
source:
Business Insider
via
Forbes