Unable to turn away from the screen on your phone? Team Coco says you need "Guiding Hands"
3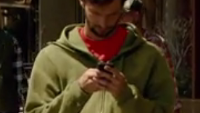 Are you the type of person who is always staring down at the display on their phone 24 hours a day, 7 days a week? If you are distracted by your handset while walking, you can get seriously hurt by cars, trucks, walls, joggers, feral cats, manholes and more. And focusing on your phone at all times means that you are missing out on life.
But there is a solution.
Guiding Hands
is a service that will shadow you wherever you go, making sure that while you have your face in your phone, you remain safe and sound. Guiding Hands protects you from getting hit by something, and also prevents you from hitting something. Their motto is "You can look at your phone or you can look at where you're going, but you can't do both."
Unfortunately, Guiding Hands isn't real. It was created by Conan O' Brien and his Team Coco YouTube channel specifically for the video below. Conan and his team have produced a number of videos related to the mobile industry which we have passed along to you. Click on the video below to see O'Brien's latest video about Guiding Hands. Wouldn't this be a great service for you power users out there who just can't turn away from your smartphone screen?
source:
TeamCoco