The Ulefone Armor 6 is the phone that will go through anything alongside you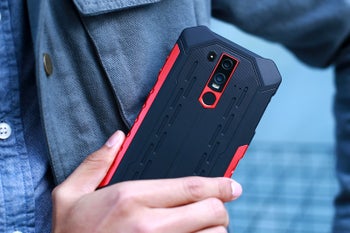 Advertorial by Ulefone: the opinions expressed in this story may not reflect the positions of PhoneArena!
Getting a new smartphone is always nice, but what's not so nice is the fear that one accidental drop might put an end to your excitement and potentially set you back hundreds of dollars for repairs or another device.
That's not going to be an issue with the Ulefone Armor 6, however, this device is so tough, you can not only safely drop it, but kick it and throw it if that's what you want. But the purpose of this smartphone is not to withstand the gimmicks of short-tempered owners. Instead, it's meant to be a trusted companion for adventurous personas and professionals that spend most of their time outdoors and can't afford to pamper their gadgets.
Every company can make durability claims, but not all can back them with the proper certification. The Ulefone Armor 6 is not only IP68 certified, something common for smartphones these days, but also has an IP69K certification, which means it can withstand high-pressure and high-temperature spray downs. But durability requires more than just water resistance, that's why the Armor 6 is also compliant with the MIL-STD-810 standard.
MIL-STD-810 is a military standard that's used to evaluate equipment for use in the field. For a device to receive it, it must withstand very harsh environmental conditions, including high and low temperatures, sand and dust exposure, shock and vibration and even salt fog (used to test rust resistance). It's safe to say that if the Armor 6 is good enough to pass military-grade punishment, it will survive anything you're likely to throw at it (literally and figuratively).
But a device is only as useful as the functionality it can provide. That's why Ulefone has packed all the necessary hardware in the Armor 6. The brain of the phone is MediaTek's Helio P60 12nm AI-powered chip running Android
8.1
and paired with generous 6GB of RAM and 128GB of storage, giving you plenty of space to store all the images and videos you'll take during your adventures.
Speaking of images and videos, those will be provided by the dual 21MP+13MP rear camera working in tandem with the AI processor to give you the best possible shots, whether that is a stunning panorama taken from a mountain top or a close-up of some unique sea creature.
Of course, venturing to exciting corners of our planet means you'll be away from conveniences such as electricity for extended periods of time. The Armor 6 has your back in that regard as well with its enormous 5000mAh battery. It will take a while before you drain all that power from your smartphone, but when you eventually do need to top it up, the 18W fast charge support will ensure you have a full tank in no time. And if you're thinking that a phone with that much protection can't have
wireless charging
, well, you're wrong. The Armor 6 checks that box as well.

Another nifty feature this phone has is a UV detector that can measure how strong rays are and warn you when you have to take measures to protect yourself.
Beyond that, you get a bunch of other features like dual SIM support, fingerprint sensor and face unlock, accurate GPS thanks to both Glonass and Beidou navigation systems and NFC with support for Google Pay for when you're back in the city.

The Ulefone Armor 6 will be available for presale on January 14 with a $100 discount and a free wireless charger, only $359.99 until January 20.