Uber adds ability to book rides for others who lack smartphones
1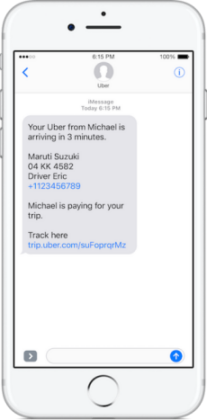 Uber's had a tough time in the news lately, only last weekseeing theresignation of its CEO, Travis Kalanick. This, however, is a new week! And withthat comes a new feature from the ride-sharing company – the ability to bookrides for someone else, regardless of whether or not they own a smartphone.
While the person who requests the ride must still bebilled, entering a pickup address other than the GPS location of the requester willautomatically prompt the user about booking the ride for someone else. At thispoint, the user can select a rider from their address book and their contactinformation will be shared with the driver. Details including the name, licenseplate number, and a link to track the drivers route will be sent to the ridervia text message. The requester is also able to track the ride through the Uberapp like usual.
The new feature broadens Uber's potential customer base andreduces stress on those who would otherwise need to employ trickier and moreinformal tactics to arrange a ride for a friend or senior citizen, forexample.
In the past, Uber has partnered with organizations such asthe Los Angeles based 24Hr Homecare to enable ride booking through phoneoperators, while their competitor Lyft has done the same for GreatCall members.Services such as these are likely to continue, with the addition of this newestfeature only further expanding the modalities for ordering an Uber.