UFS 2.1 explained: the storage technology in today's top Android phones
33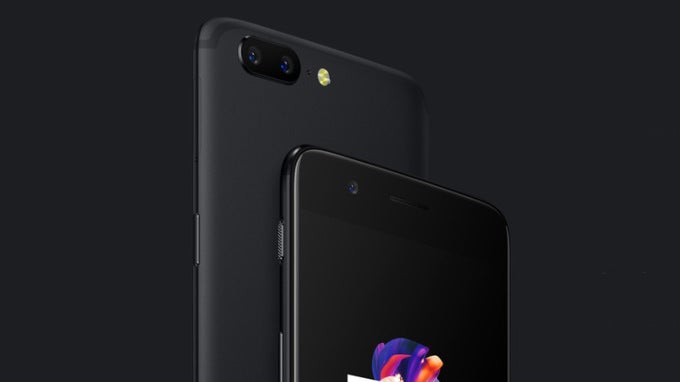 The OnePlus 5 is one of the latest phones to use UFS 2.1 tehcnology. But what does this mean?
Inside each and every modern smartphone reside two quite important memory chips. One of them, known as RAM, holds memory that can be read and written rapidly, but can't be stored if power to the chip gets cut off. RAM is where active apps and operating system components are loaded so that they can be manipulated quickly. Needless to say, your phone's RAM is a vital component, but it rests outside the scope of this article.
Your phone also has a chip for storing data in the long term – apps, photos, music, as well as the operating system itself. This chip isn't as fast as RAM, but can preserve information indefinitely, even when the device is turned off. Of course, without this chip, your smartphone will also be nothing but a shiny paperweight.
Now let's involve the
OnePlus 5
for a moment. During its's announcement, it was pointed out that the phone uses UFS 2.1 storage technology, which was cool not only because storage type rarely gets mentioned during such events, but also because that's the fastest kind of storage on Android today.
But what is UFS, anyway?
In the simplest of terms, Universal Flash Storage (UFS), is a storage technology standard. It dictates how a device's UFS-compliant storage chip connects to and interacts with the rest of the system. UFS 1.0 was announced back in 2011, and 2013 brought us version 2.0 of the standard, which was up to 4 times faster than the previous. But it wasn't until 2015 when UFS made its smartphone debut on the
Samsung Galaxy S6
. Today, the latest UFS 2.1 is used not only on the OnePlus 5, but also on high-ends like the
Galaxy S8
and the
HTC U11
.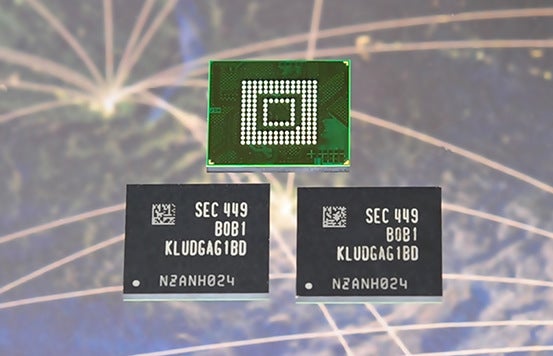 Samsung-made UFS storage chips for smartphone use
How fast is UFS?
UFS is intended to be a replacement for eMMC – an older and still widely used storage technology. While eMMC is cheaper and easier to implement, it is considerably slower – both in theory and in practice.
Quite conveniently, it was recently discovered that Huawei's flagship smartphone, the
Huawei P10
, comes with either UFS or eMMC storage inside – depending on what kind of component the assembly line had on hand at the time of manufacturing, apparently. That is why we now have a real-life example of how the two technologies compare. On the left are the results produced by UFS 2.1, and a UFS 2.0 benchmark is in the middle. The benchmark results on the right are from a P10 using eMMC storage. (In read/write tests, greater numbers indicate better performance. In SQLite tests, lower results are better.)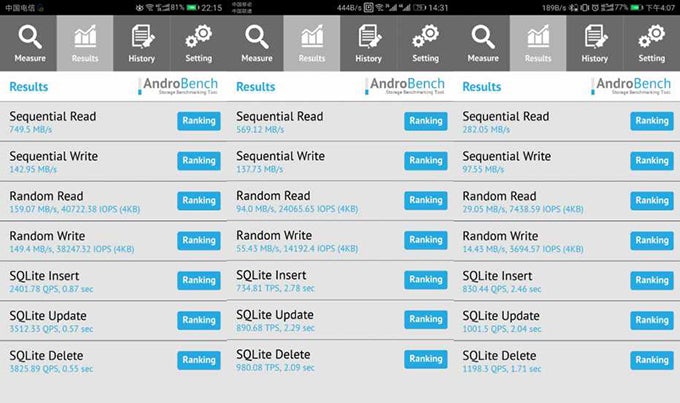 UFS 2.1 vs UFS 2.0 vs eMMC5.1 in a Huawei P10. Image credit - GizmoChina
One of the reasons for UFS storage's speed capabilities is the way it communicates with the rest of the device's hardware. eMMC can only have data read from or written to it at any given time. UFS, on the other hand, allows data to go back and forth simultaneously, which is definitely of help when the device is under load.
It is also worth noting that UFS 2.1 on the OnePlus 5 operates in dual lane mode, meaning that there are two lanes for data reading and two more lanes for data writing (vs 1 read and 1 write lanes in the
OnePlus 3
). This upgrade alone lets the OnePlus 5 storage perform up to 26% better than in the previous OnePlus flagship, according to its maker.
What's the practical benefit of UFS?
Naturally, faster storage translates to better performance, and while eMMC is still fast enough for general use, it could prove a bottleneck in more resource-intensive use cases. Think capturing bursts of high-resolution photos or recording high-bitrate 4K videos. As apps are getting bigger and more complex, storage speeds can also affect their launch times and responsiveness during use. And I trust all Android users know that feeling of their phone grinding to a halt when a bunch of apps are being installed or updated. The need for UFS and its greater throughput capabilities is only going to become more apparent as new technologies evolve and demand for higher-res media grows. VR, AR and 360-degree media are all evolving, while 5G is right around the corner.
Does my phone have UFS storage?
If it is a recently launched high-end model, then yes, it probably does. As mentioned above, Samsung made the switch to UFS in its top phones with the Galaxy S6. LG's
G5
,
G6
, and
V20
sport UFS storage as well. So do the
HTC U Ultra
,
HTC U11
, and the
Google Pixel
. In Sony's camp, we have the
Xperia XZ Premium
rocking UFS 2.1 storage.