U.S. carriers combine on anti texting and driving campaign
2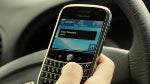 The nation's four largest carriers, Verizon, AT&T, T-Mobile and Sprint, are combining on a multi-million dollar campaign against
driving while texting
. The four will align themselves behind
AT&T's "It can wait" slogan
. Ads will be run over radio and television and over 200 other organizations will back up the campaign.
And if you look up toward the sky, you might find three of Goodyear's blimps promoting the anti-driving and texting message. You will also see store displays, social media and community events all promoting the same slogan. A simulator will also go on tour allowing people to see the danger of texting while behind the wheel first hand. As you might imagine, the campaign is focused
on teens
.
Despite AT&T calling driving while texting an "epidemic," there are some who say that the long term trend of accidents is going down and texting while driving does not seem to be changing that. Despite Transportation Secretary Ray LaHood's comments in 2010 that 3,092 lives "
could have been saved if someone had the sense to put down their cellphone
," that figure was actually the number of those who perished thanks to distracted driving. That category includes things not related to mobile phones such as eating, fiddling with the radio and talking to passengers. According to the Department of Transportation, the actual number of deaths related to cellphone use that year was 408, or 1.2% of the total number of traffic related deaths.
"Every CEO in the industry that you talk to recognizes that this is an issue that needs to be dealt with. I think we all understand that pooling our resources with one consistent message is a lot more powerful than all four of us having different messages and going different directions."-Randall Stephenson, CEO, AT&T
The cooperation among all four carriers will last until September, when school starts and kids are not on the road as much. AT&T CEO Randall Stephenson says that the campaign could go on longer if all four partners agree to an extension.
source:
AP