U.S. appeals court: no warrant needed for phone location data
7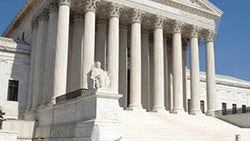 The intersection between law and technology is frequently a complicated one, and lawmakers and the courts alike struggle to keep legislation and its interpretation current. After all, laws regarding things like data privacy and suspect surveillance may prove problematic if they were drafted in the days before we carried around gigabytes of personal data on our persons, all while broadcasting location data to far away servers. Unfortunately, U.S. courts have been
super inconsistent on some of the positions they've taken in regards to these issues
. Today we're looking at the latest ruling concerning law enforcement access to phone location data, in a move that spells bad news for privacy advocates.
Ruling 12-3, the 4th U.S. Circuit Court of Appeals has rejected an argument that the government needs to seek a warrant in order to obtain phone-location data.
The court's analysis hinged on the fact that cell phone users should be aware that their carriers are able to locate the position of their phones. Since this data is voluntarily provided to a third party (the carriers),
there's no expectation of privacy that would require a warrant to get past
.
This ruling is yet another at this Court of Appeals level that claims cell phone users have no inherent right to location privacy. And while lower courts have occasionally sided with defendants arguing that warrants should be necessary in order to get this very personal data, we're starting to see higher courts come together against such interpretations.
So far we've yet to see the Supreme Court rule on the issue of warrantless access to cell phone location data, though back in 2014 the Court did decide that police can't seize and search phones without a warrant.
source:
Reuters