U.K. Windows Phone ad shows how to shut up an obnoxiously curious kid using Kid's Corner
11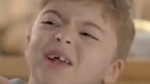 A new commercial for Windows Phone in the U.K. shows how
Kid's Corner
can help calm down even the most obnoxiously curious kid. For those unaware, Kid's Corner is a feature on the platform that gives kids their own place on a phone to play approved games and read approved content. To prevent your brood from accidentally sending messages to your boss or from viewing porn, Kid's Corner has its own launcher to keep your area of the phone away from the Kids.
You could buy junior his own phone, but that entails paying for the device and the extra line. And with that comes the possibility that the kid will find his way around some areas of the internet that you would prefer he didn't visit. The best remedy for this is the Kid's Corner, especially since data from Babycenter.com reveals that 75% of mothers regularly give their phone to their kid. Kathleen Holmes, principal designer for Windows Phone, said that "
sometimes letting my kids watch a video on my phone gives me a few moments of quiet to catch my breath
."
Check out the ad below to see how Kid's Corner works as good as any pacifier you can buy.
source:
WindowsPhone
via
WMPoweruser
Recommended Stories