Two unannounced Sony phones show up in User Agent profile, could be the rumored Xperia XZ1 and X1
16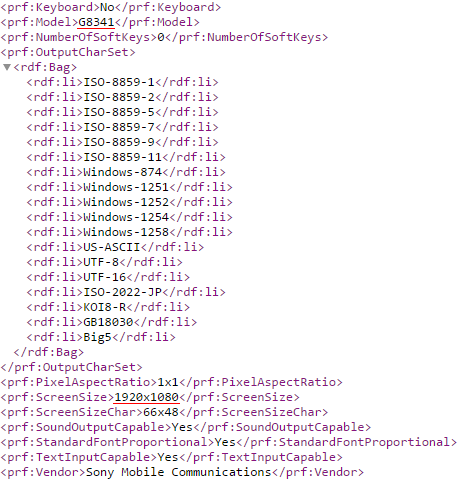 The User Agent profile of one of the device's variants, showing its display resolution
The following piece of news may not exactly be a revelation, but here goes: Sony is working on a new flagship smartphone. The news comes from a couple of User Agent profiles uncovered on Sony Mobile's site, which also revealed the phone will probably be released with Android O out of the box.
The device's model number G8341 (or G8342 for the dual-SIM variant) tells us a couple of things: the letter G signifies it's part of the company's current flagship line, while the first two digits, 83, could signify it's another member of the Xperia XZ line. For reference, the
Xperia XZs
follows the model number convention of G82XX, while
Xperia XZ Premium
models use G81XX instead.
But here's where things get interesting: the UA profile also lists the device as sporting a full HD resolution. This leads us to believe that what we're seeing here could potentially be the previously rumored
Xperia XZ1
. We've heard this device, which is said to be making an appearance at this September's IFA in Berlin, will be powered by Qualcomm's Snapdragon 835 SoC with 4 gigs of RAM, and will sport a 3,000 mAh battery and a 5.2-inch full HD display.
This year's IFA will also reportedly bring us a couple of other Sony devices as well. The first one is said to be a Compact variant of the aforementioned XZ1, while the other, named Xperia X1, will be a successor to last year's Xperia X. Here's hoping Sony foregoes its habit of announcing its devices way too early and puts all three of these on the shelves this September.
Update:
A couple of other User Agent profiles have been uncovered as well, this time of a device with a model number of G34XX. This time there's six different versions of the device, three with a single SIM slot and three with a dual one. Given the model number, this device is most probably a mid-ranger instead, and its full HD resolution leads us to believe this might be the rumored Xperia X1. Also, curiously enough, this device is being tested on Nougat instead of Android O.