Two cool iOS games with slashed prices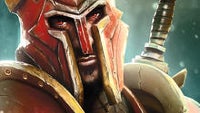 Now that Summer's over, app discounts have slowed down quite a lot. Still, scouring for bargains is what we like to do at least once a week and today, we noticed a couple of pretty cool titles on sale in the App Store.
The first is the fairly new "Stealth". As the name implies, it's a game meant to sate the hunger of sneaking enthusiasts – a much needed title, we would say, as stealth games on mobile are few and far between, not to mention that a small percentage of them are actually good.
Stealth looks like a mix between Thief, Metal Gear Solid, and Commandos, and we mean the classic titles – from the '90s. Based in a medieval-looking environment, it has you controlling your hooded character from a top-down perspective, using a virtual joystick and a single action button, which changes its function based on context. There is a MGS-esque radar in the top-left, showing nearby enemies' positions and fields of view – basically, it assists you in staying out of the enemies' sights, while sneaking behind them to deliver a fatal blow. There is also a first-person view button, which brings the camera down and lets you look directly ahead, which is helpful for looking into the deep distances – something that the default bird's eye view can't deliver. The game is a mixture of sneaky take-outs and puzzle solving, and while it can't deliver the depth of a full-blown console or desktop stealth game, it may just help some stealth junkies out there get a quick fix while on the go.
Download
($1.99, was $4.99)
Secondly, we have Godfire: Rise of Prometheus. Now this is a pure action hack'n'slash, with beautiful visuals, which appears to be heavily inspired by God of War. If reading that last bit made your trigger-fingers twitch, then you should be happy to know that its price has been slashed.
Godfire sees you controlling Prometheus on his mission to bring Fire to mankind. The object is, of course, guarded by hordes upon hordes of monsters that haven't had a good meal for quite a while and are craving some Prometheus liver (hurr hurr, get it?). And so – the slaughter begins.
The controls are done via the well-known virtual stick on the left and two action buttons on the right. When in combat, the stick makes Prometheus dodge attacks with God of War-esque dives, while the buttons translate to light and heavy attacks, which you can chain in a combo. While out of combat, the stick and buttons let Prometheus navigate through the world.
Unfortunately, the game's difficulty curve is a bit broken and it seems to be done so deliberately, encouraging in-app purchases. Sure, it can be beaten with some good old-fashioned hardcore grinding, and by all means – we love an unforgiving, challenging game – but it's a bit disappointing to see such tactics employed in a "premium" title.
Still, you can have Godfire at 66% off right now and if you love a bit of action packed slashing, with a pinch of puzzles and platforming, you should check it out.
Download
($0.99, was $2.99, has in-app purchases)