Two Prestigio Windows Phones formally announced, one available now, the next on August 20th
8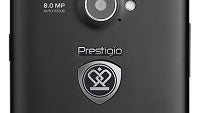 During Microsoft's developer conference this past spring, Build 2014, the company
announced a couple new partners
in the Windows Phone game, among them, Prestigio, headquartered in Cyprus.
Prestigio is not a newcomer to the smartphone or tablet space. It has an established line of mid-range and upper-mid-range Android devices, most with dual-SIM support.
Prestigio's foray into the Windows Phone
scene is no different. Two devices are on deck, one is available now and the other will be available on August 20th.
The devices, the Multiphone 8400 DUO and Multiphone 8500 DUO, are both dual-SIM 3G mid-range Windows Phones. Spec-wise, they carry some common underpinnings, quad-core 1.2GHz Qualcomm Snapdragon 400 CPUs, Bluetooth, and Wi-Fi. Each have an 8-megapixel main camera, and a front facing camera.
The Prestigio that is available now, the higher spec Multiphone 8500 DUO, has 1GB of RAM and 8GB of storage, a 5-inch 720p display. From the provided specifications, however, there does not appear to be any expandable storage capability. The Multiphone 8500 DUO can be had SIM free for just $210.
The Multiphone 8400 DUO will be available August 20th, and will cost only $110. The 4-inch IPS display has a 480x800 resolution. It also only gets by with 512MB of RAM and 4GB of storage, also with no apparent microSD card support.
Prestigio sells its line-up throughout Europe, the Middle East, as well as parts of Asia and Africa. These devices are squarely aimed at developing markets, and with their dual-SIM ability and low price point, they are sure to find appeal.
source:
Telecompaper
and
Prestigio
Recommended Stories