Two BlackBerry 10 models to be launched in early 2013, one touch screen and one with QWERTY
20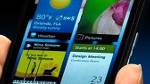 RIM might be alive after all, according to an executive with a carrier who has seen presentations of the manufacturer's new BlackBerry 10 devices. The executive says they are a marked improvement from the current models and makes
BlackBerry more competitive to Android
. The executive says RIM should be able to meet its Q1 schedule for rolling out the new line.
Speaking of the new models, RIM CEO Thorsten Heins had a quick briefing with the WSJ during which he said there eventually will be six BB10 handsets evenly divided between units with a physical QWERTY keyboard and units without. The physical shape and feel or the new models is completed and the software is nearly complete said the CEO who added, "
We're near the finishing line
." Initially,
two units will launch early next year
with one an all touchscreen model and the other sporting a physical QWERTY keyboard. BlackBerry is known for having outstanding physical QWERTY keyboards like the one on the BlackBerry Bold 9900/9930 which arguably is the best QWERTY ever attached to a smartphone.
"We value our relationship with RIM and look forward to working with them on existing and new products."-Mark Siegel, AT&T spokesman
The two models launching early 2013 are part of a 5 week road show that is taking the devices to various carriers. Traditionally, it takes a carrier four to eight months to beta test a new handset. With a brand new OS, mobile operators might need additional time to test the new BlackBerry 10 models.
Heins passed one important detail about the new BlackBerry 10 smartphones. The executive says that
they will have replaceable batteries
so that power users can replace dead cells with fresh ones. He also said that the carriers will support the new models, wanting RIM to keep its installed base of BlackBerry users.
source:
WSJ
Recommended Stories