Twitter aims to crack down on harassment and hate with new mute features
2
We currently live in a world where it's extremely easy to come by hate, violence, and prejudice. Various events that have taken place throughout the world have caused for this, and lots of individuals take to social media sites like Twitter, Facebook, and Instagram to sound their distaste, hate, and displeasure with events and actions that take place. Twitter has been especially filled with nasty posts and activity, and it's been reason enough for a lot of people to leave the social network. The company is well aware of this, and as a result, Twitter has announced new tools that will soon be available that will allow you to have more filtering controls over what content you do and don't want to see.
Prior to this announcement, they only real option you had for such actions was the ability to "mute" accounts of specific users if you didn't want to see their content when browsing the site or app. While this certainly is an effective tool to make use of if there's a certain account you'd rather not have to look at, it's a bit ineffective if there are general topics or trends you don't want to be subject to in your timeline. Thankfully, Twitter is resolving this issue with the new inclusion of tools that will allow you to have that same mute function with not only other user accounts, but words, hashtags, and emoji as well.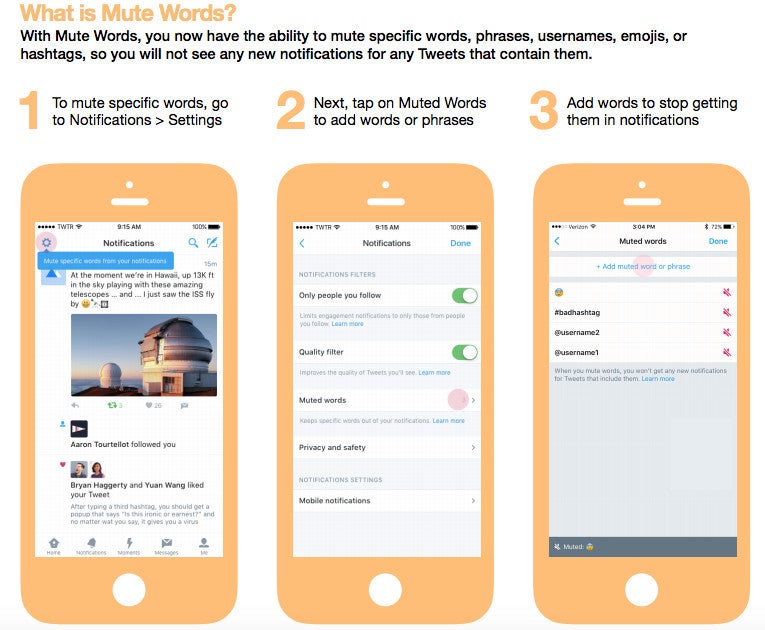 The new mute tools are being released alongside Twitter's updated "hateful conduct policy" that will make it easier than ever to report harassment or hateful actions when you spot them on the social network. Twitter says that the new mute tools is "a feature we've heard many of you ask for, and we're going to keep listening to make it better and more comprehensive over time." As for the new hateful conduct policy, Twitter said on their official blog that their support teams have recently gone through training on the new policies, "including special sessions on cultural and historical contextualization of hateful conduct."
Twitter has said that these new muting features will be making their way to users within the next few days, and although it isn't a particularly exciting feature, it's an important one that should make using the social network more enjoyable than ever.
Recommended Stories