Turn your smartphone into a desktop PC with these 6 MHL-compatible docks
19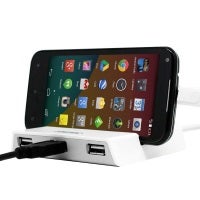 Believe it or not, today's Android smartphones pack quite a bit of horsepower. We're not even talking about those crazy octa-core chips and Quad-HD resolution screens found in cutting-
edge
flagships. Even an old man of an Android phone like the
Samsung Galaxy Note 2
packs plenty of punch for the essential tasks and some reasonably complex games. Thanks to this, it can even become a desktop personal computer that will deal just fine with browsing, document editing, and multimedia. Great stuff!
The only major prerequisite to trying this out is MHL. But what is an MHL and does it grow on trees? MHL is short for Mobile High-Definition Link. This is the industry standard that lets people connect smartphones, tablets, and other portable smart devices to HDMI-compatible (you know HDMI, right?) displays via microUSB. It's a pretty awesome invention that turns the ol' microUSB port into a gateway for streaming data, video, and sound over a mere cable! It also allows devices such as microUSB to MHL adapters and docks to exist, letting you merge your MHL-compatible smartphone or tablet with a 1080p display, mouse, keyboard, and external storage! If you're in doubt about your device compatibility, you can
check the MHL Consortium website
for information - there are an extensive list of supported devices and a search engine to help you poke through it.
Sounds great, right? Unfortunately, buying the right MHL adapter or dock is a little complicated. To blame is the industry's notorious penchant for developing different standards for doing the same thing, leading to fragmentation. Basically, Samsung replaced the standard 5-pin microUSB connector with a 11-pin one so it could bring aboard some additional functionality. This happened with the Samsung Galaxy S3, Galaxy S4, Galaxy Note 2 (all variants of these smartphones), and the Galaxy Mega 6.3. Curiously enough, the overwhelming majority of convenient MHL docks we found (and will be showing you below) were created specifically for those 11-pin Samsung gems - they were, and still are popular devices, after all.
You'd think this limits compatibility to Samsung's phones of yesteryear, but thankfully, technology comes to the rescue again! Unless specifically noted, these docks should work with 11-pin to 5-pin microUSB adapters and cables, which are in abundance. Now, we don't have the means to test and confirm that last bit ourselves, but at least one MHL dock maker around here is selling their 11-pin product with a bundled 11-pin to 5-pin cable for compatibility with newer devices - so we reckon there are no problems on that end. The unfortunate tradeoff, however, is that some of these docks won't be able to support your smartphone in portrait orientation. If you don't like the sound of that, you might be better off with a regular microUSB to MHL adapter off your favorite shopping website or hardware store. Obviously, it won't look as great on your desk, but it will get the job done!
Okay, so we've told you what you need to know. Once you've procured an MHL dock, it's only a matter of connecting your smartphone, display, and (optional) sound system to it, then adding a mouse and keyboard combo - wired or Bluetooth. If you're getting an MHL adapter, though, make sure to get one with a 3.5mm stereo output jack, because not all displays can handle audio over HDMI. Also, wireless mouse and keyboard are mandatory if you go the adapter route, as these are small and don't usually have USB ports. There you go! Enjoy!