Turn your iPhone or Galaxy S III into a full-fledged point & shoot camera with the SnappGrip
17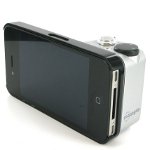 Sure, the
Samsung Galaxy Camera
might seems as though it offers the best of both worlds (camera & mobile functions), but if you're still intent on using your smartphone for all your photo taking needs, there's a neat add-on accessory that'll turn it into a traditional point and shoot. That's where the
SnappGrip
comes to mind, which is a
snap-on camera controller
that gives you the distinct styling of a dedicated camera.
Coming to market this sometime after February, with pre-orders for the gadget available now, this simple attachment allows the iPhone 4/4S/5 and the Samsung Galaxy S III to be armed with all the comforts of a camera. From its grippable body that mimics the feel of a standard camera, it further shows off its versatility with its mode dial, physical shutter key, and zoom control. Essentially, you slide in your device into the SnappGrip, and from there, it's ready for all your shooting needs!
As for some of the additional items that the SnappGrip features, they include the following:
Wireless control over your smartphone via Bluetooth and an Android app or an iOS app
An iPhone 4, iPhone 5 or Samsung Galaxy S3-specific case to which the Snappgrip controller is easily attached or removed
A tripod mounting point at the base of the controller
A power switch and a micro USB connector for easy recharging with any standard USB/micro-USB cable
An internal lithium ion battery that will last up to 60 hours on standby
If you place a
pre-order
right now, you can reserve yourself a unit for a mere
$79
– if not, it'll retail for
$99
when it's released.
source:
snappgrip
via
Kickstarter