President Donald Trump is having dinner tonight with Apple CEO Tim Cook; trade wars are on the menu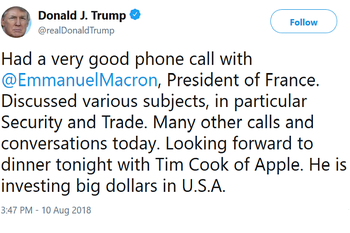 Earlier today, the president tweeted that he is having dinner tonight with Tim Cook. Trump is currently on vacation at his golf resort in in Bedminster, New Jersey. The pair met at the White House in May as Apple's CEO tried to warn the president about the negative effects of a trade war between the U.S. and China.
While most Apple devices are designed by the company in Cupertino, they are assembled by contract manufacturers in China. Cellphones are the highest valued product imported into the U.S. from China, with over $70 billion worth of handsets shipped into the states from the country in 2017. That might be too big a target for the president to ignore. Should Trump decide to escalate the trade war with China even more, and include Apple's most important product, Apple will have no choice but to raise iPhone prices in the U.S. After all, the company's one trillion dollar valuation would be at risk if Apple decided to eat the cost of the tariffs.