Trials Frontier review - motorbikes survived the apocalypse, but so did in-app purchases
7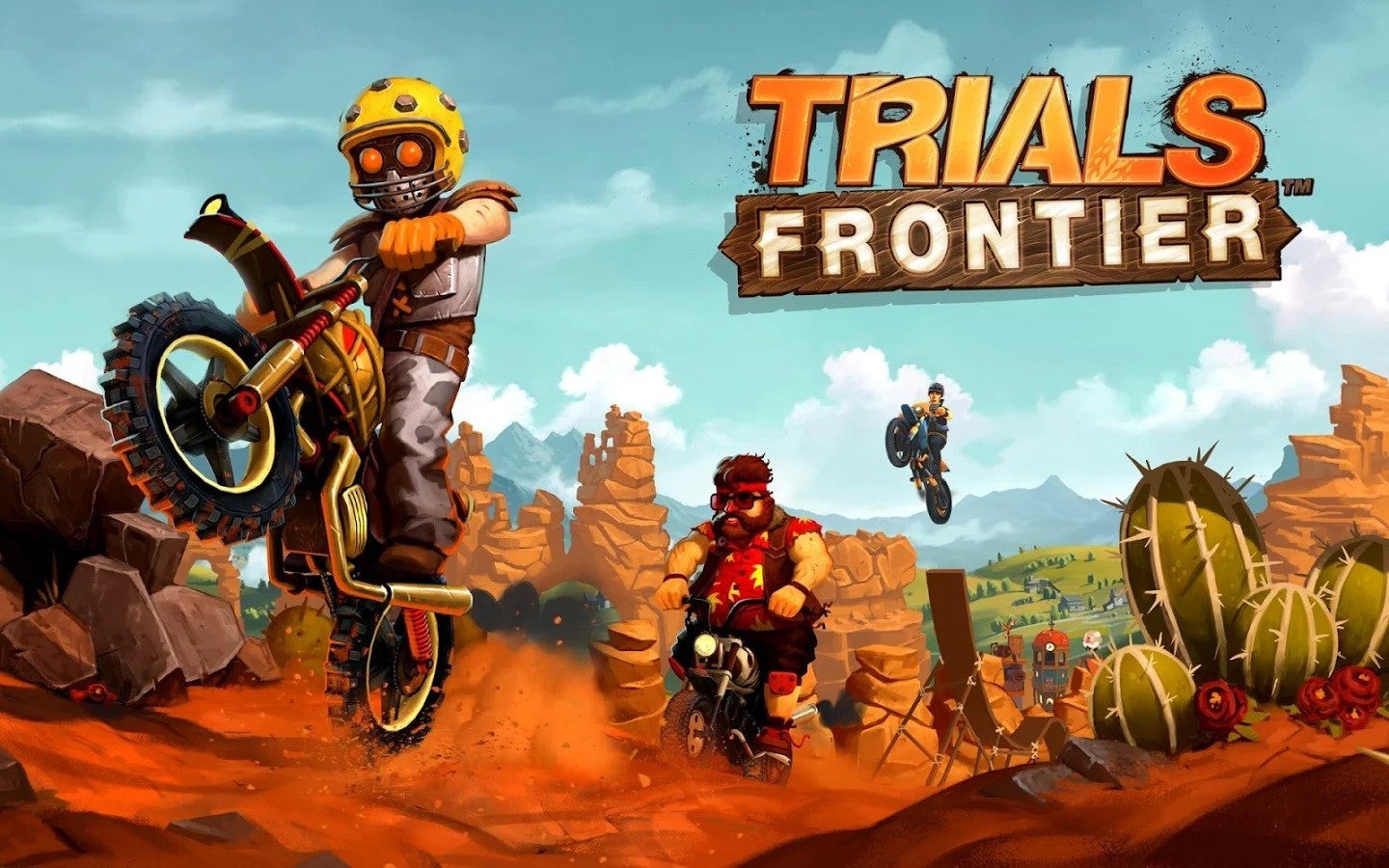 | | |
| --- | --- |
| Publisher: Ubisoft | Download: Android, iOS |
| Genre: Motorbike Racing | Price: Free (with in-app purchases) |
Extreme sports fans have it pretty easy these days. Every major app store is stocked to the brim with (mostly interchangeable) motorbike and monster truck mobile games. Frankly, most of them look like they are born out of crude experiments with 3D graphics and physics engines on a budget, hence they look bad and control awkwardly. But not this one, fortunately. Ubisoft's Trials Frontier is, by far, the best looking and most playable motorbike game we've had on a smartphone. In fact, it's one of the coolest and satisfying mobile games as a whole, but alas, it is plagued by in-app purchases and there's no way to put that nicely. Still, there are many things Trials Frontier has going on about it, so let's bring some of them to light.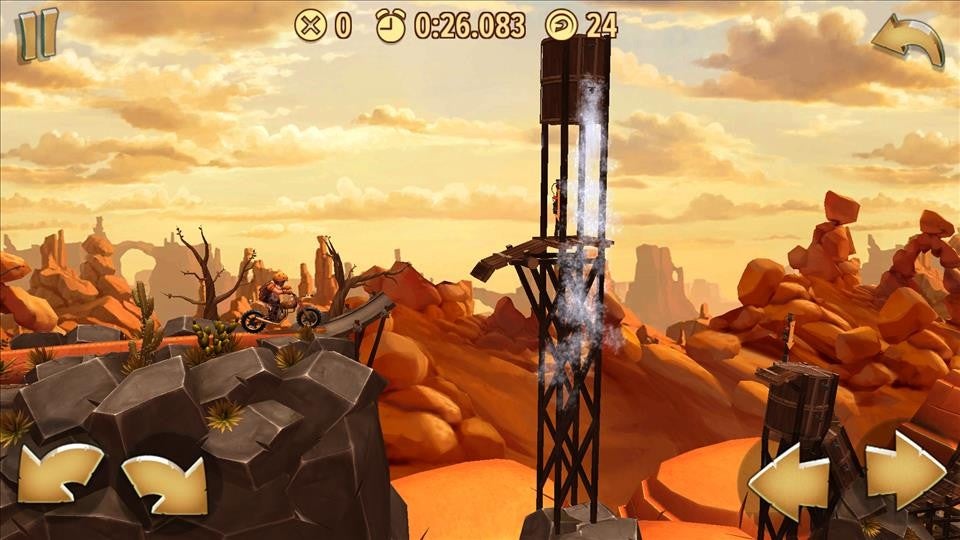 The first thing you'll probably notice is that the game's graphics are both unique and impressive. Taking inspiration from dystopian PC games like Borderlands and Rage, Trials Frontier brings that same post-apocalyptic vibe to a genre that's practically devoid of personality. And not only does Trials introduce a unique setting, it also manages to inject a healthy dose of humor and ridiculousness into its apocalyptic backdrops and hard-boiled characters. You will notice that after you ride through your first race track and get a feel for the game's fantastic visuals. They integrate high quality hand-drawn backdrops with 3D-rendered assets that have an Unreal Engine look to them. The scenery is very colorful and detailed, but you might miss out on most of the eye candy because you will be concentrated on proper biking.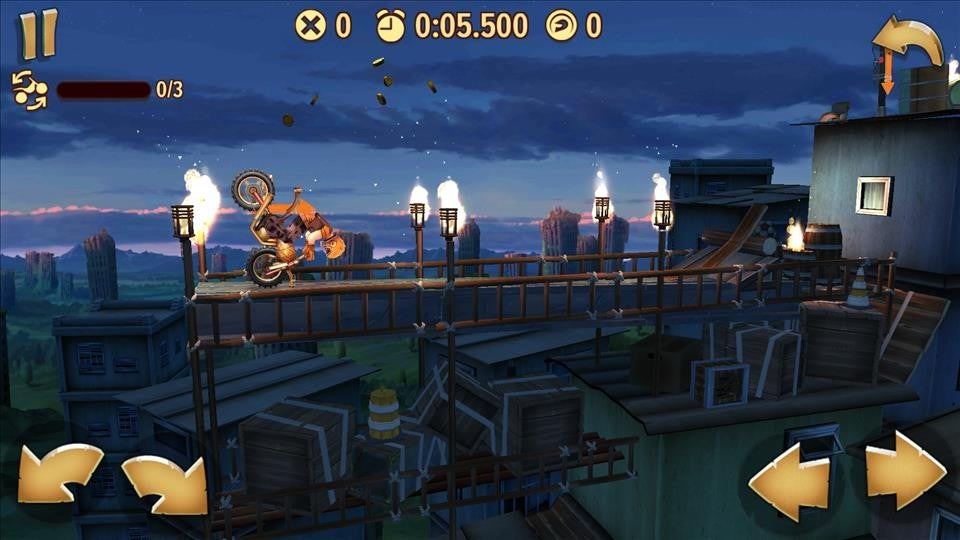 Apart from the glorious presentation, the elements that make the game stand out are an actual storyline, variety in levels, and that sense of humor we mentioned. Early in the game, you will witness your nameless character get crushed by stones released by an explosive trap. The distressing episode is followed by him waking up in a village, inhabited by a mob of characters that will proceed to give him quests. Some of these challenges will unlock new parts of the game map and advance the story forward. The storyline is completely ridiculous and it's not one to be taken seriously, but it's there, and it's actually fun. The race tracks are quite creative. They are rich with stunts, explosives, traps, and many of them feature a hilariously slapstick ending that sees your character bump into barriers, explosive barrels, walls and other obstacles without batting an eyelid. As a motorbike simulator, Trials Frontier isn't much ahead of the competition. It plays just like other specimens of the genre, and while the controls are reasonably tight, the physics are completely out of this world. Expect plenty of crashing and failed back-flips, along with the constant challenge of maintaining good balance.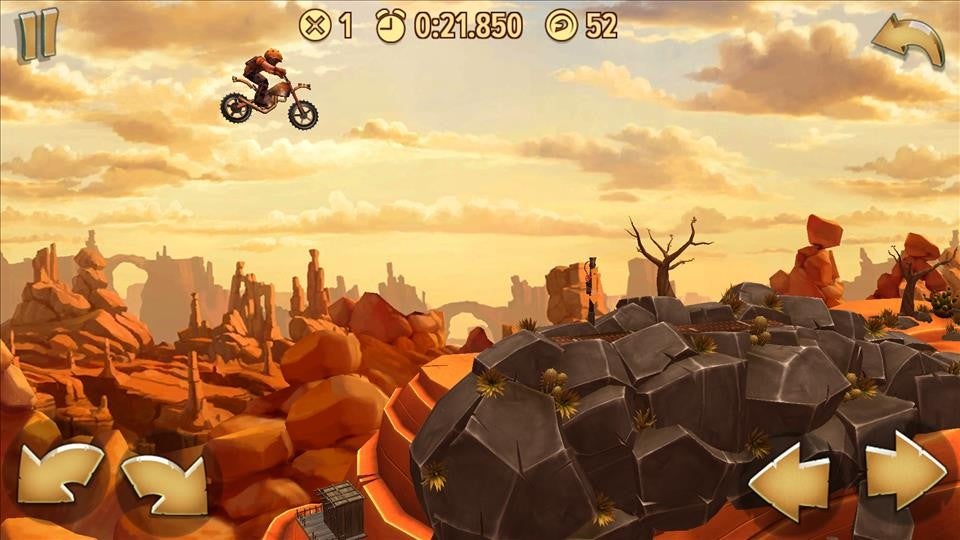 Not long into the game, you will be introduced to its upgrade system, which happens in a way that foreshadows how Trials's in-app purchases system will eventually force you to pay up or put off playing it. You are faced with an unbeatable opponent and must upgrade your bike to get a chance against him. The first few rounds of upgrades are free, but from then on, it's money-making time. Trials features coins and diamonds as in-game currencies, and while you will be able to win some cash and jewels by completing challenges, sooner than later, buying them with real-world currency remains your only option if you want to keep playing. Trials is especially vicious in the ways it restricts you from progressing. For example, there's the fuel meter. Each challenge taxes you some drops of fuel to enter, and needless to say, in the later stages, you will frequently see yourself completely out of gas. Additionally, upgrades to your bike don't come any cheaper, and without them, you can forget progressing past a certain point.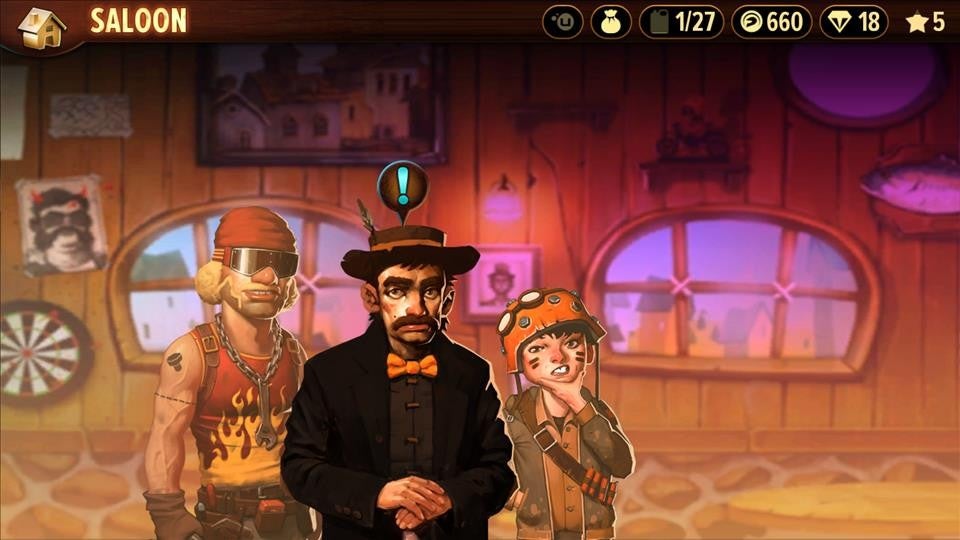 To ensure prompt payments, the game will introduce time-outs between the availability of fuel. Once you deplete the gas, it's either buy some, or wait one minute. A minute becomes an hour, an hour becomes two hours, and before long, you'll be faced with 24-hour time-outs if you happen to decide your real money are better spent on real fuel. Due to the extreme nature (or should we say, annoyance) of the in-app purchases, eventually Trials Frontier regresses from an addictive, bright game to something you'd rather play for 5 to 10 minutes to kill time, and from then on, even quick fixes of the game become impossible, as you will have to wait an hour before you're allowed a ride or two. By that time, your interest and, possibly, the weight of your wallet, will have waned.
Now that we've taken a quick look at Trials Frontier, what can we say about the game's pros and cons. It's for certain that the game boasts an awesome presentation, an original concept, and a funny storyline. It's also simple and fun to play, while being just challenging enough to be interesting. However, the dreadful in-app purchase system ruins the party very quickly. It would have been much better if the game was available as a paid download with a limited amount of purchases. Instead, the game practically extorts you with buying diamonds and fuel just so you are able to play. We feel many of you will enjoy Trials Frontier right until the shopping compulsions kick in, and then move on to another game. A bit of a shame, really, because the game has a lot to offer, but it's not enough to entice you into paying for everything all the time.
Pros
Awesome presentation
Original concept and storyline
Cons
Dreadful in-app purchases system
| | |
| --- | --- |
| Publisher: Ubisoft | Download: Android, iOS |
| Genre: Motorbike Racing | Price: Free (with in-app purchases) |