Transportation Department leaning toward keeping the ban on in-flight cellphone calls
9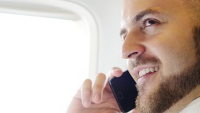 Worried about bothering passengers and flight crew in the middle of a flight, the DOT is leaning toward continuing the ban on in-flight voice calls. The FCC in December
had voted 3-2 in favor of lifting the ban
, even though FCC commissioner Tom Wheeler had previously mentioned
that he didn't like the idea
. For the ban to be lifted, the DOT will have to vote the same way as the FCC. And that is something that does not look promising.
According to the
Wall Street Journal
, the Transportation Department is close to making a decision. The airlines are believed to be pushing the Department for an answer, even if it looks like that answer is going to be in the negative. When the DOT does makes its decision, we could hear some choice comments from them. The airlines think that they should be having the final say, not the government agency.
Transportation Secretary Anthony Foxx has already gone on record as saying that he believes that flight crew and passengers do not want to be disrupted by phone conversations. The DOT does have the right to make the final decision about lifting the ban on in-flight cellphone calls, under transportation law that gives the agency the job of making sure that airlines provide "safe and adequate" service.
As it turns out, passengers might not be so keen on making in-flight calls after all. AeroMobile Communications Ltd., a U.K. company that provides mobile service to foreign airlines, says that its service is used for calls just 20% of the time. Most passengers employing the service use it for texting and for downloading data.
source:
WSJ