Transparent phone prototype is getting closer
53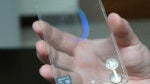 It's been the dream for years and years: transparent computer displays, and transparent phones. We've seen them over and over in sci-fi, and we've seen plenty of
device render concepts
, but this is the first real prototype that we've seen in real life. The key to it is the transparent display that has been developed by Taiwan-based Polytron Technologies. We first saw the display tech from Polytron a
couple weeks ago
, but we're getting more info on it, and more importantly video.
As you can see in the video below, all they have so far is a very very early prototype, almost just a proof-of-concept, but the team expects to have a more fully functioning prototype with working software by the end of the year. You'll also notice that the device isn't 100% transparent, because some components - the battery, SD card, and microphones - simply can't be made transparent right now. Still, it's a pretty cool start.
The display is what Polytron calls Switchable Glass technology, which is a conductive OLED. When the phone is powered off, the liquid crystal molecules in the display are a cloudy white, but when you turn on the juice (electricity running through transparent wires), the liquid crystal molecules realign to form text, icons, etc.
There is no word on when the displays will go into production, but Polytron general manager Sam Yu says it will be "near the end of 2013". Yu also said that Polytron is in serious discussions with "major smartphone makers" across the US, Europe, Japan, and South Korea to bring the display to market.