Transparent Screen app for Android is out, bumping into cute girls suddenly becomes lame
14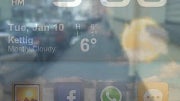 The Transparent Screen app just appeared yesterday on Android Market, and it does exactly that - sets a degree of transparency to whatever you are doing on your phone's screen, with the live background being whatever is in your camera lens field of view.
The idea is to, of course, avoid tripping, crashing into lamp posts, or falling off a cliff while using your smartphone, unless it's bumping into a cute girl on purpose to make conversation. "Oh, so sorry, my Transparent Screen app force closed!" is as good a convo kickstarter as any when it comes to first contact.
There are apps that do the same while typing text messages, for example, like Walk and Text, but Transparent Screen takes things to a whole new level, and works everywhere, without the requirement that your phone be rooted, for example. The downsides are that some users report lagginess, especially on weaker devices.
You can try and set lower camera stream res to avoid that, and also decrease the transparency ratio. For Transparent Screen to start with an app of your choosing, or to stop when the screen goes off, you'd have to go PRO for a buck.
source:
TransparentScreen
(Android Market)