TransparenTXT for Windows Phone gives you a good view of what's in front of you while texting
22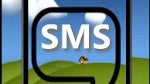 In our ever-advancing technological world, we're always trying to combat disastrous things like distracted driving, but for pedestrians, they're probably trying to safely traverse the jungles of the sidewalk instead.
Well, there's one nifty app for Windows Phone called
TransparenTXT
, which literally does what it's named after. Of course, walking and texting can be a concoction for disaster, especially when your attention is placed on your phone as opposed to the things in front of you. However, with TransparenTXT, it uses the phone's
rear camera
to show you on-screen what's in front of you while texting away.
Needless to say, the best thing to do is to simply stop in your tracks and type your message before walking. However, the app is available if you want to take the risk in typing while talking. Naturally, there is a free trial available for the app, which limits you to one message length with up to 40 characters. To get the full offering though, you'll need to dish out
$3.11 (£1.99)
to buy it. Check out the video below to see what it's all about.
source:
LinkNode
via
WMPoweruser