Transfixing new set of Oppo R7 images flaunt its edge-to-edge screen
6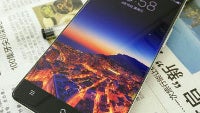 In the grand scheme of things, going from tiny bezels, LG G3 style, to nearly non-existent ones, isn't exactly a big deal in the eyes of most consumers. It's one of those selfless advances that manufacturers go after. But LG isn't alone in this anymore, and rivals from China are now working to outdo it at its own game. In fact, a yet unreleased Oppo device, dubbed R7, appeared online a while ago, sporting almost zero side bezel, and a host of new images again drew our focused attention.
There's nothing really new to report here, except that the 5.5-inch R7 is looking more and more real by the day. Previous reports peg the R7 as a rather high-end device, with rumors circulating that it'll be just 0.19 inches (4.85 mm) thick, sport a 64-bit, octa-core MediaTek MT6795 processor from MediaTek, and a 20.7-megapixel rear snapper. Of course, at that thickness, you should still expect compromises.
Oppo is using patented tech to make the R7 work. According to a recent filing, the company is using special tech to diffract light at the very end of the display's physical body in order to create the illusion that little to no bezels is present. Check out the video below the image gallery to see how the tech works in practice.
Recommended Stories