Touchfire on-screen keyboard is a new take on iPad typing: raises $200,000 on Kickstarter
11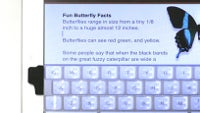 The
iPad 2
is probably the closest to being the perfect tablet for the masses - its sales figures have proved that true over and over again in the last nearly two years. It's the perfect media consumption device, but go into content creation and you'll almost immediately notice that it's still not perfectly fit for that. Especially, when it comes to typing down lengthy blog posts, emails or even worse - writing a whole book. That's where the TouchFire screen-top keyboard comes to save the day.
The Touchfire stretches across the tablet when used in landscape mode and gives you that nice
touch feedback
you need to really start typing quickly. Additionally, the Touchfire weighs just under an ounce and it folds with the iPad's cover. It's also completely transparent, so it doesn't feel like half of your screen is missing. It mimics an actual keyboard - it strikes the right balance for sensitivity so you can cushion your fingers on a key without actually triggering input and with an easy press you get to type. And most interestingly - it has raised over $200,000 on Kickstarter, more than twenty times the creator's initial goal of $10,000.
When we go into the mechanics, it becomes apparent that the Touchfire uses magnets to attach to the sides of the tablet. The typing resistance is achieved with a small bumps under the silicon keys on the keyboard.
Now, some might prefer an external Bluetooth keyboard, but the Touchfire is definitely different enough to have its own unique appeal. The question is - do you think you need it in a crowded market, full of external iPad keyboards?