TouchTime tracks how much time you spend on your activities and provides statistics
0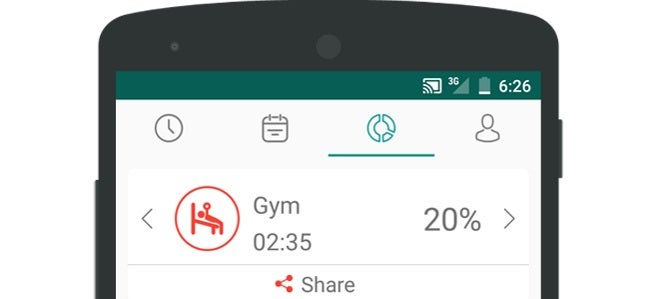 TouchTime is an app for tracking the amount of time you spend on various activities. For example, the next time you do something like driving, sleeping or working out, TouchTime can help you track how long it takes to do it. This way, you can clearly see where you actually spend your time, rather than where you think you do, and change your habits if necessary.
TouchTime has over 1000 icons to choose from, so chances are your favorite hobby is included as well, unless you are into something very exotic. Choosing among this many icons is made easier by searching through them via keywords. Long-pressing an icon lets you choose a color for it. Deleting an icon or changing its position is also a possibility via a simple drag-and-drop, long-press mechanic. Likewise, long-press an icon to delete or change it.
There's also the calendar feature that lets you see all the activities you did during any day. Following that, you can add, delete or change any properties, such as start time, finish time, comments, and sharing. You'll also get to see a statistics pie chart for any day, week or month.
TouchTime is free and currently on Android, with an iOS version supposedly coming soon.