Toshiba plans to push out an update next week that fixes the Thrive's sleep mode issue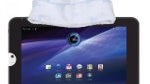 Just like how some people get all groggy and irritated from being awaken from a deep sleep, even some of our gadgets fall victim to this all too common occurrence, but it's especially noticeable with the Toshiba Thrive. In fact, it was only last week when we reported on how some new Thrive owners were
experiencing some uncharacteristic power management problems
, which resulted in the Honeycomb tablet
not properly waking up from sleep mode
.
Considering that it's been given the tagline of being "the first tablet to get it right," some affected owners will undoubtedly question that, but thankfully, Toshiba is quick to address the problem. Fortunately, the team over at Toshiba are already hard at work in producing a
software update
that will squash the nagging problem – and it's set to arrive
next week
! Specifically, Toshiba's PR team said:
"Toshiba recently became aware that a limited number of Thrive Tablet users were experiencing Resume issues when in Sleep mode. We have heard from a Toshiba source that a software update to resolve this issue will be available early next week and can be accessed from the Service Station utility app found on the Thrive at that time. This will improve sleep-and-resume performance, as well as enhance the multimedia playback capabilities of the device."
Indeed, their quick response in churning and sending out a fix is something that's going to be looked as being a favorable gesture amongst owners. So if you're experiencing this particular problem, just keep an eye out for that update next week.
source:
Android Central