Toshiba Thrive experiencing a few power issues
4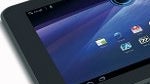 The Toshiba Thrive, which is the companies first attempt at an Android 3.0 Honeycomb tablet, is said to be already experiencing multiple power issues amongst many users.
The power management issues are seemingly widespread, with many owners of the Toshiba Thrive said to be dealing with a device that doesn't always like waking up after its put to sleep. When the tablet refuses to wake up, a hard reset is required to get it working again.
Another problem many users seem to be having is the Thrive rebooting all on its own. Surely many devices have bugs when they first come out, but Toshiba experienced other production issues with its Folio 100 tablet last year.
Any Tablet Thrive owners experiencing any power management issues? Toshiba is yet to issue a statement but if more problems we may just get one eventually. Tell us what you think in the comments below.
source:
Electronista
Recommended Stories