Toshiba introduces 3 new tablets: Excite Go is a $110 7-inch Android tablet, Encore 8 and 10 come with Windows on board
17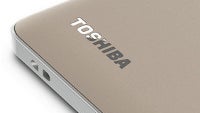 Toshiba has just unveiled a trio of new tablets, aiming for that sweet spot of good value for the money, with an 8-inch and 10-inch Windows-based tablets, the Toshiba Encore 8 and Encore 10, as well as the 7-inch Excite Go Android tablet for just $110.
First, the Encore duo. The 8" and 10" tablets do not have particularly impressive specs - Toshiba has equipped them with a quad-core Intel Atom chip and a modest 800 x 1280-pixel resolution, but what they stand out with is price. The 8-inch Encore 8 costs just $200, while its 10-inch sibling price is set at $270.
What looks even more exciting in terms of cost, though, is the $110 Toshiba Excite Go, a 7-inch Android tablet for those on a strict budget. We have seen cheap tablets out of China, but this is one of just a few to come from a manufacturer that you've actually heard of (the HP Slate 7 would be the most prominent alternative).
The Excite Go has a surprisingly capable silicon engine for the price: it runs on a quad-core Intel Atom chip that Toshiba says can power the device for up to 8 hours. It's also got the advantage of running the latest Android 4.4 KitKat on board, but on the downside, its 7-inch display is fairly low-res at 600 x 1024 pixels.
Are you interested in any of these affordable new tablets by Toshiba?
via
Engadget