Toshiba announces SDHC memory card with built-in NFC transmitters for preview functionality
4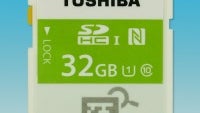 Out of all the places a NFC chip could possibly end up in, a microSD card wasn't high on our "things to possibly put NFC in" list . But we're not Toshiba. Not only did the Japanese electronics powerhouse announce a new generation of SDHC (Secure Digital High Capacity) cards that have built-in NFC, but the reasoning totally makes sense, too!
Thanks to the enabled near-field communications channel, these cards can tell an Android app what they contain, how much storage space is used up and left, and show up to 16 thumbnails of stored photographs.
All you have to do is hold them against your smartphone, or the other way around - when you think long and hard about it, it's the same, really. This way, you no longer need a PC or another card-reading device to check out whether it was this card, or that other card that holds those important documents and photos. That's meaningful innovation for you - and without a hint of irony.
If you are into the nitty-gritty side of SD cards, you'd probably like to know that Toshiba's are UHS Speed Class 1 (capable of recording 4K2K video) and SD Speed Class 10 (10MiB/s minimum)-compliant. Sales of 8GB (7.2GB usable), 16GB (14.4GB usable), and 32GB (28.8GB usable) versions will begin this February. The Memory Card Preview app from Toshiba is a free download.
source:
Business Wire
via
SlashGear