Toshiba announced the world's smallest fuel cell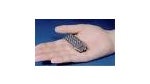 Toshiba Corp. has developed what they claim to be the smallest fuel cell - 0.87 x 2.2 x 0.18 inches (22mm x 56mm x 4.5mm). The latest prototype, with its total weight only 8.5 grams (g), is small enough for integration into a wireless headset for mobile phones, but still efficient enough to power an MP3 music player for as long as 20 hours on a single 2cc charge of highly concentrated methanol. The new fuel cell outputs 100 milliwatts of power, and can continue to do so, non-stop, for as long as users top up its integrated fuel tank.


The new DMFC adopts a "passive" fuel supply system which feeds methanol
directly into the cell. Two types of DMFC are being brought to products: "active" and "passive". Active systems use a pump and fan to feed methanol and oxygen into a cell stack, where the oxygen reacts with the methanol to produce electricity. Active systems are more complex and output more energy than passive systems, and are better suited for larger fuel cells. Passive DMFC have a simpler structure that requires no pump or fan and are better suited for small devices like mobile phones.
The new fuel cell is expected to be commercially available in 2005.

Cnet.com