Toshiba WT310 fits an ultrabook into 11.6" Full HD tablet with Windows 8 Pro, is mum on the price
8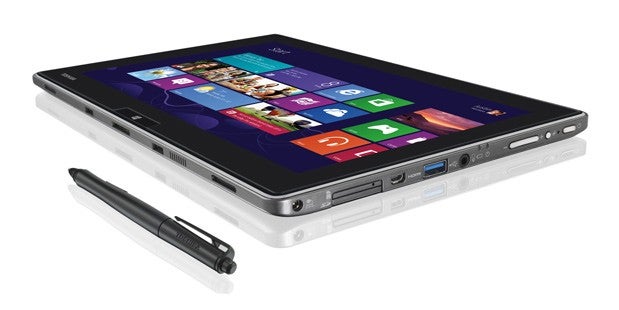 While
Microsoft is on the cusp of introducing the second generation of Surface tablets
, there's not exactly a glut of powerful Windows 8 slates in the meantime, so Toshiba decided to fill the void with the pro-oriented
WT310
tablet.
It boasts an 11.6" Full HD display, which is good, but also an Intel Core CPU of undisclosed kind and a
DigitizerPen
as an added input option. There is a USB 3.0 port, if you were wondering, plus an HDMI one, as well as SD card slo. Besides the standard connectivity options like Wi-Fi, Bluetooth 4.0 and optional 4G HSPA+ / LTE radios, we also get Intel's WiDi standard for wireless streaming.
A
docking station
with extra ports will be available, along with a bunch of enterprise-oriented niceties like a Trusted Platform Module, Active Management Technology and Anti-Theft software for IT department management.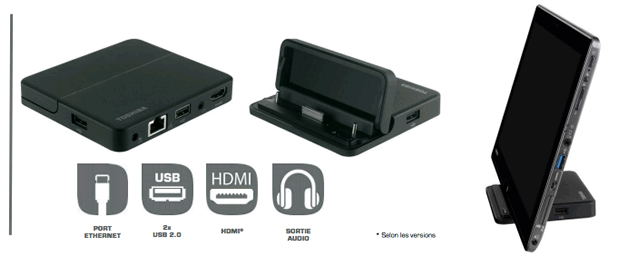 The Toshiba WT310 tablet is as compact as an 11-incher with Intel Core CPU and Full HD screen can get, at 9 x 7.5 x 0.5 inches (229 x 189 x 12.4mm), weighing 29 ounces (825g), for those keeping track. Release is slated for later this quarter when the important details left out, like price, CPU type and storage capacity, will all be revealed.
New Toshiba WT310 brings ultimate mobility and flexibility to professional tablet users

- Tablet designed for business users features Windows 8 Pro and Intel® Core™ processor
- DigitizerPen converts handwritten notes into editable text
- Pre-installed security and data management features enabling secure remote management

London, UK, 2nd May 2013 – Toshiba UK today announces the launch of the WT310 tablet, a powerful touchscreen device designed for business professionals on the move. To keep up with the busy professional, the WT310 comes packed with the latest Intel® Core™ processor and a range of features to ensure a fast and productive mobile working experience. With its 29.5cm (11.6") Full HD screen and a wide range of connectivity features, the WT310 offers users multiple ways of interacting with the Windows 8 Pro operating system for additional convenience.

A tablet that means business

Optimised for business use, the WT310 includes a comprehensive range of features designed to aid mobile workers, no matter what job is at hand. Featuring a touch sensitive display and Windows 8 Pro, users can quickly swipe, scroll and tap programs or documents. Users can also make handwritten notes using a bundled DigitizerPen – perfect for meeting minutes or seminars – while advanced software converts the notes into text documents for further editing or sharing with colleagues.

Advanced security and data management

Using Toshiba's quality and reliability testing, the WT310 has been designed to ensure it can comfortably handle intensive daily use. The resilient plastic coating of the WT310 ensures the internal components are protected from damage in the event of accidental drops, knocks or even heavy pressure. Resistant to movement, the internal solid state drive (SSD) provides additional storage reliability, so it's perfect for those long-haul business trips.

A range of advanced security and data management features are pre-installed on the tablet, including Intel® Anti-Theft – a software package that reduces the risk of unauthorised access – and the Trusted Platform Module (TPM) which safeguards locally stored critical data. IT managers can also monitor, maintain, repair and upgrade the WT310 remotely, thanks to the Intel® Active Management Technology on selected models, ensuring mobile professionals are always running the latest system updates.

Connectivity potential

Multiple connectivity options make it easy to output content on to a large screen or projector, ideal for meetings and presentations. An HDMI® micro port allows content to be displayed on a larger Full HD screen without any loss of detail, while the Intel® Wireless Display allows users to transfer multimedia to a compatible TV set or projectorwithout the need for cables.

For more intensive writing tasks, an optional docking cradle features additional ports for connecting to a keyboard, mouse or external hard drive. Additional HDMI® ports provide extra flexibility for outputting content and the full-size USB 3.0 port and SD™ card slot allow for storage to be extended if necessary. Furthermore, the cradle's Gigabit LAN port ensures fast and safe access to a corporate network.

The WT310 features Wi-Fi® b/g/n or a/g/b/n, as well as support to HSPA+/LTE networks for fast and reliable wireless broadband connectivity, and data transfer between other mobile devices such as smartphones is quick thanks to Bluetooth® 4.0 as standard.

Toshiba WT310 facts & figures

· 29.5 cm (11.6") anti-glare Full HD high brightness touch display

· DigitizerPen (on selected models)

· Latest Intel® processor technology for Ultrabooks™

· SSD storage

· Connectivity: 1x full size USB 3.0, 1x HDMI® micro, SD™ card slot, Wi-Fi b/g/n or a/g/b/n Intel® Wireless Display, optional embedded HSPA+/LTE module

· Business utility tools: Trusted Platform Module (TPM v1.2), Intel® Active Management Technology (AMT), Intel® Anti-Theft, Toshiba Eco Utility software

· Colours: Steel grey metallic

· Dimensions: 229x189x12.4 mm

· Weight: Starting at 825g

· Windows 8 Pro (64bit)

The Toshiba WT130 will be available in the UK from Q2 2013.