Toshiba Excite 13 hands-on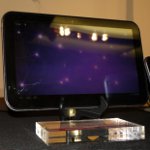 By now, we've firmly come to accept that most high-end tablets are found packing 10-inch sized displays – with nothing yet in recent memory going beyond that. Well folks, that's all about to change because the
Toshiba Excite 13
is the new Goliath in the industry, as its smacks down on the table with a ginormous
13.3-inch display
!
Well, what can we first say about this immense tablet from the onset? For starters, all we have to say that this is one beastly tablet! No doubt it's screaming loudly with the biggest display we've seen on a tablet, but unfortunately, we find it excessively
unwieldy
– due to its sheer size and extremely heavy feel (35.2 oz) in the hand. The more we hold onto it, we think about forgetting about trying to hold it with a single hand. Just like its other siblings, the design of the Toshiba Excite 13 is nothing spectacular as it's constructed out
sliver plastic
, which tries to emulate the look of a metallic finish. Initially, we thought the plastic body would attribute to a light feel in the hand, but oh no, that's not the case here.
Turning our attention on its display, again, we're not overly compelled by its appearance – well, aside from its 13.3" size. Thankfully, the resolution of this LCD display has been bumped up to
1600 x 900
, which allows it to produce some pleasant visuals, though, its 138 ppi
pixel
density is far from being the highest we've seen. Lastly, the other main attraction about the tablet, besides its girth, is the peppy
quad-core NVIDIA Tegra 3 processor
that's running the show behind the scenes. Effortless with nearly all operations, we're humbled by the quick and instantaneous response with the tablet – even more when it's flaunting a vanilla Android 4.0 Ice Cream Sandwich experience right from the start.
Looking over its specs sheet, the tablet also features a 5-megapixel camera with flash, 2-megapixel front-facing snapper, 1GB of RAM, GPS, Bluetooth, 802.11 b/g/n Wi-Fi, microUSB port, microHDMI port, and full-sized SD card slot. Interestingly, this beast is destined to arrive sometime this June for
$649
, which is for the base 32GB model.