Top 5 two-player split screen games for Android phones and tablets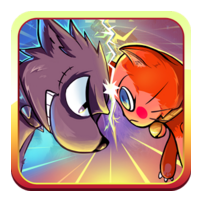 Looking for the best two-player split screen games for Android phones and tablets that do not require a mobile connection? If so, then you've come to the right place!
Here at PhoneArena, we believe that smartphones and tablets changed our lives for the better. However, while we remain optimistic when it comes to this new step in the evolution of our global culture, we're not oblivious to the fact that mobile devices do tend to break us off from the people around us, which is not as much of a good thing.
In this context, many turn to online multiplayer games to ease off their solitude. While online multiplayer games are great for spending quality time with far-away friends, they're not much use for when both of you are in the same room. After all, using a Wi-Fi router and two individual devices to interact with the person sitting right next to you doesn't exactly scream "human interaction", doesn't it?
With this in mind, we took the time to scan through the Google Play Store in an attempt to discover the best two-player split screen games for Android that do not require a mobile connection. Here are our results:
Drive Ahead
If you feel that there are times when you feel a desperate urge to crush your friend's or sibling's head, don't worry, we won't judge! Fortunately, Drive Ahead lets you do this without suffering unwanted consequences such as jail and death. As if the name wasn't suggestive enough, Drive Ahead is an Android game in which two players try to crush each other's head with a vehicle.
The visuals are not terribly exciting, but they do go along well with the simplistic nature of Drive Ahead. For added complexity, players can use one of multiple vehicles - ranging from go-carts to garbage trucks and even on to F1 race cars - to achieve their one goal. The credits that you earn for crushing skulls can be used to unlock new cars and new levels.
With air hockey arcades dropping in popularity over the past decade, Glow Hockey 2 brings the air hockey experience to the Android device. Just with like the real life version of air hockey, your goal in Glow Hockey 2 is to slide the puck down the opponent's goal opening while stopping the person across the
table
screen from playing the same trick on you.
The controls are as simple as they come: you just need to slide your finger across the screen to control your mallet, meet the puck on its trajectory, and hopefully, score a goal. Think you can do this in a neon-filled environment? Then you must check our this simple but engaging Android game!
Cat vs Dog

Oh, the age-old "cats vs dogs" polemic! If you're a cat-lover and want to demonstrate the superiority of felines compared to canine companions, then enough with the arguments already! Pick up Cat vs Dog from the Google Play store, and then do the mature thing about it and throw things such as poison gas at your opponent. One neat thing about this game is that the props you can throw at your enemy are both varied and fun.



Cat vs Dog
Red Hands

Most of us played slap-jack in our childhood and Red Hands provides a virtualized experience of the same game. Two opponents are placed on opposite ends of the screen, and depending on who's turn it is, the button on each end can be used to either attack or retreat. The goal is to avoid the incoming attack while ensuring that your own ones land properly. Unfortunately, however, the element of pain - a vital one in a real-world slap-jack game - cannot be virtualized.



Red Hands
4 in a Row

While the previous games were more on the arcade side of mobile gaming, you'll have to bring out the strategist in you to get ahead in "4 in a Row". In the game, each player takes turns dropping discs in a 42-hole board, with gravity pulling the discs towards the bottom of the screen. As the name suggests, the goal is to line up 4 discs in a row, either vertically, horizontally or diagonally. Think of this one as a gravity-enabled version of Tic Tac Toe!